Hotel in Amsterdam, the vibrant capital of the Netherlands, is a city that truly has it all: picturesque canals, historic architecture, world-class museums, and a bustling atmosphere. Whether you're planning a romantic getaway, a family vacation, or a solo adventure, choosing the right hotels in Amsterdam is crucial to ensure a memorable stay in this beautiful city. Amsterdam, the capital of the Netherlands, is a city that has captivated travelers for centuries. With its enchanting canals, rich cultural heritage, and vibrant atmosphere, Amsterdam offers a unique blend of historical charm and modern excitement. 
7 Compelling Reasons to Visit Amsterdam:
1. Picturesque Canals and Architecture
Amsterdam's intricate canal system, crisscrossed by charming arched bridges, gives the city its distinctive character. The 17th-century canal ring, known as the Canal Belt, is a UNESCO World Heritage Site and a masterpiece of urban planning. Strolling along the canals, you'll be mesmerized by the elegant facades of historic buildings, many of which lean gracefully as if sharing secrets from the past.
---
2. World-Class Museums
Amsterdam is a paradise for art and history lovers. 
Rijksmuseum

: Housing an extensive collection of Dutch Golden Age paintings, including Rembrandt's iconic "The Night Watch," the Rijksmuseum is a treasure trove of art and history.

Van Gogh Museum:

Explore the life and works of Vincent van Gogh, one of the most celebrated artists in history. The museum's collection includes masterpieces like "Sunflowers" and "The Bedroom."

Anne Frank House:

This museum is a moving tribute to Anne Frank, a Jewish girl who hid from the Nazis during World War II. Visitors can see the hidden annex where Anne wrote her famous diary.
---
3. Rich Cultural Heritage
Amsterdam's cultural heritage is deeply woven into its streets and neighborhoods. The historic Jordaan district is a prime example, with its cobblestone streets, picturesque canals, and cozy cafes. You can immerse yourself in Dutch culture by exploring the vibrant street markets, savoring traditional Dutch treats like stroopwafels, and visiting historic sites like the Begijnhof courtyard.
---
4. Diverse Culinary Scene
Amsterdam's culinary scene is a delightful fusion of global flavors. While Dutch classics like cheese, pancakes, and herring are must-try dishes, the city also boasts a diverse range of international cuisine. From Michelin-starred restaurants to street food markets, Amsterdam caters to all palates. Don't miss the chance to dine in a canal-side restaurant and enjoy a meal with a view.
---
5. Progressive and Inclusive Atmosphere
Amsterdam has a reputation for its open-minded and inclusive culture. The city embraces diversity and celebrates individuality. This welcoming atmosphere is evident in the thriving LGBTQ+ community, the annual Pride celebrations, and the numerous festivals and events that promote diversity and acceptance.
---
6. Biking Culture
Amsterdam is renowned as one of the most bike-friendly cities in the world. Explore the city on two wheels with the natives. You can rent a bike easily and navigate the city's extensive network of bike lanes and paths. Cycling allows you to experience Amsterdam like a local, and it's an eco-friendly and enjoyable way to get around.
---
7. Vibrant Street Life
Amsterdam's streets are always buzzing with activity. Whether it's the colorful King's Day celebrations, world-class music festivals like Amsterdam Dance Event (ADE), or simply people-watching at a lively outdoor cafe, the city's vibrant street life ensures that there's never a dull moment.
---
How do I get around Amsterdam from my hotel?
Once you've secured your hotel reservation, you'll need to navigate the city. Amsterdam offers several transportation options to help you explore its many attractions.
1. Public Transportation
Amsterdam has an efficient and extensive public transportation network that includes trams, buses, and ferries. Here's what you need to know:
OV-chipkaart: To use public transportation, purchase an OV-chipkaart (public transport smart card) at stations, ticket vending machines, or online. You can load credit onto the card and tap in and out of trams, buses, and metros.

Trams and Buses: Trams and buses are the most common modes of public transport within the city. They cover most neighborhoods and attractions, making them a convenient way to get around.

Ferries: Amsterdam's free ferries connect the city center with Amsterdam-Noord. These ferries providing stunning views of the city, are an essential part of local transportation. Don't miss the chance to take a scenic ride.
---
2. Cycling
One of the best ways to explore Amsterdam like a local is by cycling. The city is incredibly bike-friendly, with dedicated bike lanes and racks everywhere. Many hotels offer bike rental services, so inquire at your hotel's reception. Exploring Amsterdam by bike allows you to reach less touristy areas and experience the city at your own pace.
---
3. Walking
Amsterdam is a compact city, and many of its attractions are within walking distance of each other. Don't hesitate to explore on foot, as this allows you to discover hidden gems and enjoy the city's unique charm. Stroll along the picturesque canals, visit local markets, and immerse yourself in the vibrant atmosphere of this enchanting city.
Also Read: Best Hotels In Las Vegas: A Guide To Luxury And Entertainment
---
Choosing the Right and Best Hotels in Amsterdam:
1. Amsterdam Castle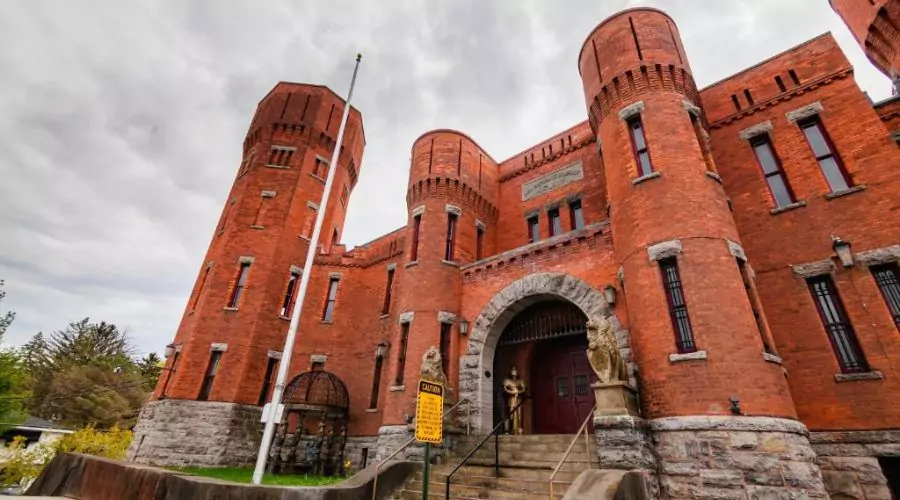 The Amsterdam Castle, a 5-star hotel located in Amsterdam, offers a range of amenities including a terrace, free private parking, and an on-site restaurant. This non-smoking property provides free WiFi and is situated 42 km from Petrified Sea Gardens. Guest rooms feature a coffee machine and a private bathroom with a shower and free toiletries. Some rooms also include a seating area, flat-screen TV, and air conditioning. The National Museum of Racing and Hall of Fame is 44 km from the hotel, and the nearest airport, Albany International Airport, is 46 km away.
---
2. Microtel Inn & Suites by Wyndham Amsterdam
Microtel Inn & Suites by Wyndham Amsterdam, a 2-star hotel in Amsterdam, offers air-conditioned rooms with private bathrooms and free WiFi. Situated 41 km from Saratoga Performing Arts Center and 42 km from Petrified Sea Gardens, the hotel provides a 24-hour front desk and an ATM for guests. All rooms include a wardrobe, and guests can enjoy a continental breakfast during their stay. The National Museum of Racing and Hall of Fame is 44 km away, as is the Saratoga Golf Club. Albany International Airport is the closest airport, located 45 km from Microtel Inn & Suites by Wyndham Amsterdam.
---
3. Lakefront Broadalbin Getaway with Deck and Kayaks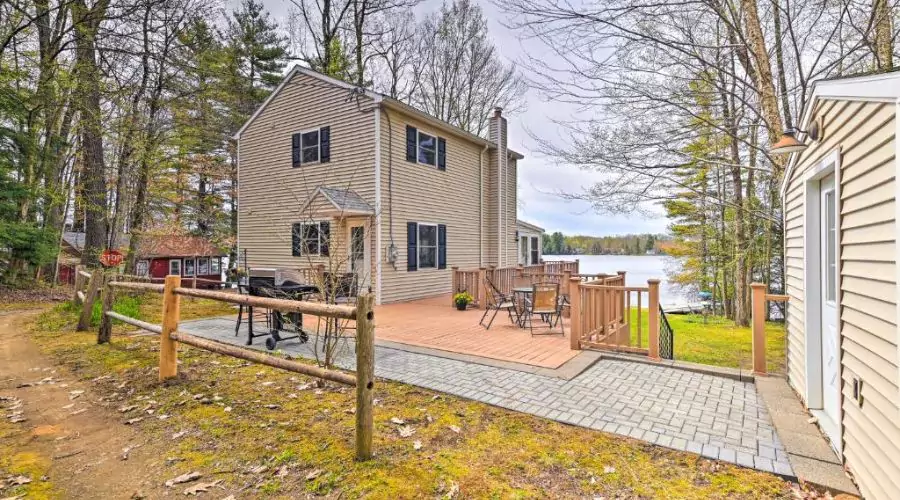 Located in Broadalbin, this lakefront getaway is 30 km from both Saratoga Golf Club and Saratoga Performing Arts Center. It offers a fully equipped kitchen and features two bedrooms. The property is also situated 26 km from Petrified Sea Gardens and provides free WiFi. The holiday home includes amenities like a cable flat-screen TV, DVD player, air conditioning, and a living room, along with towels and bed linen. Guests can explore nearby attractions such as the National Museum of Racing and Hall of Fame (31 km) and Saratoga Racetrack (32 km). Albany International Airport is the closest airport, 52 km away from this lakefront retreat with a deck and kayaks.
---
4. Super 8 by Wyndham Amsterdam
In Amsterdam, New York, this hotel offers rooms with cable TV featuring HBO and complimentary Wi-Fi. The hotel features a business center and is located 5 miles away from Fort Johnson. Guest rooms at the Super 8 Amsterdam are equipped with amenities like a refrigerator and coffee facilities. Additionally, Super 8 Amsterdam provides a business center with fax and photocopying services and offers the convenience of a 24-hour front desk. The Wrestling Hall of Fame is just one mile from the hotel, and New York Super 8 Amsterdam is situated 22 miles from the Saratoga Race & Casino.
---
5. Knights Inn Amsterdam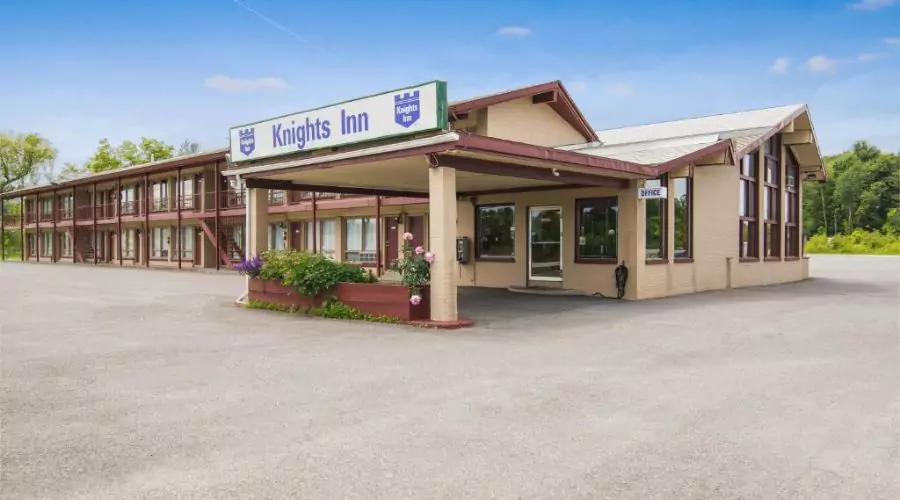 Knights Inn Amsterdam, located in Amsterdam, offers accommodation with complimentary WiFi and an on-site restaurant. The hotel provides free private parking, suitable for all sizes of vehicles, including trucks and RVs. Some rooms feature a seating area for added comfort, and all rooms come with a private bathroom and a flat-screen TV. The front desk is open round-the-clock for the benefit of visitors. Albany International Airport is situated 38 km away from the property.
---
What should I consider when booking a hotel in Amsterdam?
Before we conclude, let's recap the essential factors to consider when booking a hotel in Amsterdam:
Location: Choose a neighborhood that aligns with your interests and priorities.

Budget and Accommodation Type: Determine your budget and preferred type of accommodation.

Hotel Ratings and Reviews: Research the hotel in Amsterdam and read guest reviews for insights into quality and guest satisfaction.

Wi-Fi and Amenities: Check for essential amenities like Wi-Fi and breakfast options.

Accessibility: If you have specific mobility needs, ensure the hotel in Amsterdam can accommodate them.

Booking Platforms: Utilize online booking platforms like Booking.com for easy reservations.

Flexible Booking: Look for a hotel in Amsterdam with flexible booking policies in case your plans change.

Transportation: Familiarize yourself with public transportation, cycling, and walking options in Amsterdam.
---
Conclusion
Booking offers a seamless and user-friendly platform to book a hotel in Amsterdam, catering to a wide range of preferences and budgets. With diverse accommodations, flexible booking options, and valuable information, travelers can confidently plan their Amsterdam stay. Once booked, Amsterdam's captivating canals, rich culture, and vibrant atmosphere await, promising an unforgettable experience in this charming city. For more visit nomadscolumn.
FAQs