With its gorgeous coastline and lovely atmosphere, Myrtle Beach is a wonderful location for both beach lovers and adventure enthusiasts. This lovely city, nestled along the South Carolina coast, offers not just sun-soaked beaches but also a number of sights and activities to make your holiday truly unique. As you plan your Myrtle Beach getaway, finding perfect Myrtle Beach hotels is crucial to ensure a delightful and relaxing stay. In this comprehensive blog, we'll explore the finest Myrtle Beach hotels, especially focusing on oceanfront options that promise breathtaking views and easy beach access.
Booking.com: Your gateway to Myrtle Beach hotels
As you embark on your Myrtle Beach adventure, Booking.com serves as your trusted travel companion, simplifying the booking process and ensuring a seamless experience. With a vast range of choices, instant confirmations, best available rates, and 24/7 customer support in over 40 languages, Booking.com guarantees a stress-free booking experience. 
From oceanfront luxury resorts to cosy Myrtle Beach hotels, Booking.com provides unparalleled diversity and choice, making your stay in Myrtle Beach as enchanting as the sunsets over the Atlantic Ocean. Plan your Myrtle Beach getaway today and let the ocean waves serenade you into a world of seaside bliss.
Best Myrtle Beach hotels for you and your family
Residence Inn by Marriott Myrtle Beach Oceanfront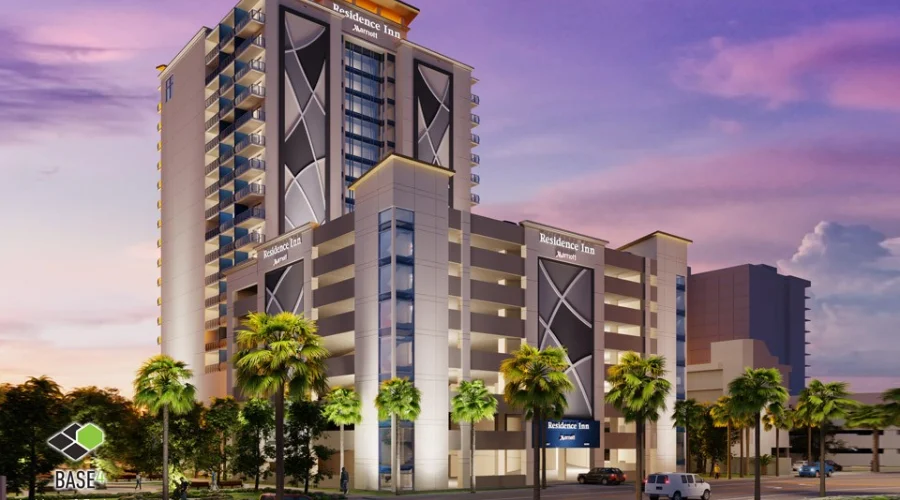 Located just 1.7 km from the renowned Myrtle Beach State Park, Residence Inn by Marriott Myrtle Beach Oceanfront offers a cosy retreat in the heart of The Market Common district. This 2-star accommodation boasts a prime location, being only a short distance from attractions like The Market Common, Myrtle Beach Boardwalk, and Myrtle Beach SkyWheel. 
The hotel provides a 24-hour front desk and serves a delicious continental breakfast each morning. With its convenient proximity to key landmarks and warm hospitality, the Residence Inn by Marriott Myrtle Beach Oceanfront ensures a pleasant stay for beach enthusiasts and explorers.
---
Hilton Myrtle Beach Resort
Nestled on the scenic shores of Myrtle Beach, Hilton Myrtle Beach Resort offers an opulent escape for travellers seeking luxury and relaxation. Guests can take a refreshing plunge in the pool or unwind in the hot tub, indulging in the ultimate seaside experience. Private balconies in certain rooms offer breathtaking views of the ocean, bringing a sense of calm to your stay. 
Dining options abound, from the casual Beachcombers by the pool to the refined ambiance of Cafe Amalfi. Hilton Myrtle Beach Resort ensures a lavish stay with its world-class amenities and unparalleled oceanfront location.
---
DoubleTree Resort by Hilton Myrtle Beach Oceanfront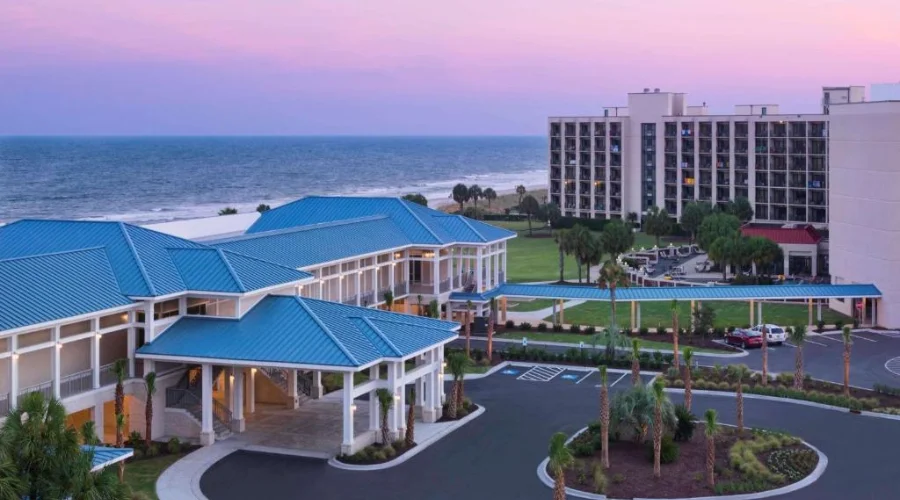 DoubleTree Resort by Hilton Myrtle Beach Oceanfront beckons travellers with its charming rooms boasting ocean views and private balconies. The resort features two lazy rivers and six pools, inviting guests to bask in the sun or take a leisurely swim. For the avid golfers, an 18-hole miniature golf course offers hours of entertainment. The rooms are thoughtfully furnished with a cable TV, microwave, mini-refrigerator, and coffee facilities, ensuring a comfortable stay. 
Guests can start their day with a continental buffet breakfast and later enjoy a delightful lunch or dinner at one of the resort's dining venues. Myrtle Beach State Park and Family Kingdom Amusement Park are within easy reach, adding to the resort's appeal for families and adventure seekers.
---
Grande Dunes Resort & Spa
The Marriott Myrtle Beach Resort & Spa at Grande Dunes stands as a serene haven amidst the pristine white sands of Myrtle Beach. Offering direct access to the beach, this resort invites travellers into a world of tranquillity and luxury. While engaging in these activities, guests can revel in the breathtaking beachfront views, adding to the overall sense of rejuvenation. Culinary delights await at the resort's dining venues, offering a delightful gastronomic experience without the need to venture far from the idyllic surroundings.
Marriott Myrtle Beach Resort & Spa at Grande Dunes curates a rejuvenating beachfront escape, making it an ideal choice for travellers seeking relaxation and indulgence. Whether you crave quiet moments by the sea or engaging activities amidst scenic beauty, this resort promises a tranquil retreat, leaving you refreshed and revitalised, ready to embrace the coastal serenity.
---
North Beach Resort & Villas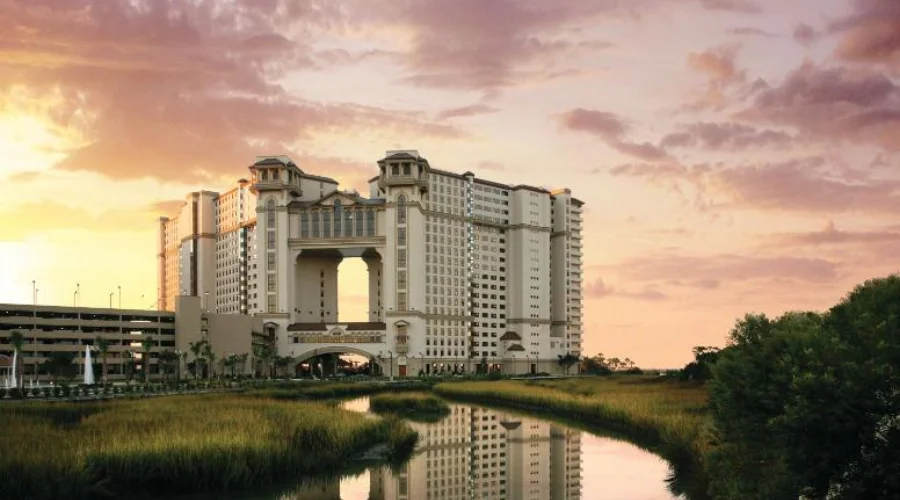 For families and water enthusiasts, North Beach Resort & Villas presents a dreamy escape with its 2.5-acre water park, complete with a swim-up bar. The resort offers classic apartments with free WiFi access, fully equipped kitchens, and laundry facilities, ensuring a comfortable and convenient stay. Guests can choose from a variety of massages and beauty treatments at Cinzia Spa, pampering themselves amidst the serene coastal surroundings. 
The fitness centre provides modern equipment and personal trainers, catering to health-conscious travellers. With a shuttle service available between the homes and facilities, guests can explore the resort's offerings with ease. North Beach Resort & Villas promises endless fun and relaxation, making it a fantastic choice for families and water lovers alike.
---
Also Read – Experience The Ultimate Hollywood Lifestyle: Stay At The Best Beverly Hills Hotels
---
Conclusion
Myrtle Beach stands as a seaside paradise offering a diverse range of hotels catering to various preferences and budgets. Booking.com emerges as a reliable ally, simplifying the reservation process with its extensive choices, best rates, and multilingual customer support. From the cosy retreat of Residence Inn by Marriott Myrtle Beach Oceanfront to the opulence of Hilton Myrtle Beach Resort, and the family-friendly appeal of North Beach Resort & Villas, the options are as varied as the experiences Myrtle Beach has to offer. 
The city's popular hotels boast oceanfront views, ensuring guests can immerse themselves in the scenic beauty of the Atlantic. Whether you seek luxury, tranquillity, or family-friendly amenities, Myrtle Beach hotels promise a delightful stay amid the captivating coastal atmosphere. As you plan your Myrtle Beach getaway, consider the diverse offerings available to make the most of your seaside escape.
For more information, visit the NomadsColumn. 
FAQ