When people think of New York City, iconic images of Manhattan's skyscrapers, Central Park, and Times Square often come to mind. While Manhattan is undoubtedly the heart of the Big Apple, New York City is a conglomerate of diverse boroughs, each with its unique character and attractions. One such borough that deserves exploration is the Bronx. Often overshadowed by its more famous neighbors, the Bronx has a rich history, vibrant culture, and an array of hidden gems that make it a compelling destination for both locals and tourists alike. When planning a trip to the Bronx, choosing the right hotels in the Bronx can greatly impact your overall experience. With its diverse neighborhoods and unique character, the Bronx offers an intriguing alternative to Manhattan's high prices and crowded streets. 
Discovering the Bronx:
1. The Bronx's Cultural Tapestry
The Bronx boasts a remarkable cultural tapestry that reflects the diversity of its residents. One of the most celebrated cultural institutions in the borough is the Bronx Museum of the Arts. This dynamic museum showcases contemporary and traditional art, with a particular focus on works by artists of African, Asian, and Latin American descent. It's a testament to the Bronx's commitment to embracing its multicultural heritage.
---
2. Bronx Zoo: A Wildlife Oasis
For families and animal enthusiasts, the Bronx Zoo is a must-visit destination. Spanning an impressive 265 acres, it is one of the largest metropolitan zoos in the world. The zoo is home to over 6,000 animals from around the globe, offering an educational and entertaining experience for visitors of all ages.
---
3. Yankee Stadium: A Baseball Mecca
Sports enthusiasts won't want to miss the chance to visit Yankee Stadium, the iconic home of the New York Yankees. Even if you're not catching a game, you can take a guided tour of the stadium to learn about its storied history and explore its impressive facilities.
---
Where in New York City might travelers consider staying?
Choosing the right neighborhood to stay in (hotels in the Bronx ) is essential to making the most of your visit to the Bronx. 
1. Concourse Village
-Located near Yankee Stadium.
-Offers a variety of accommodation options, including hotels and Airbnb rentals.
-Ideal for baseball fans and those looking to explore the Bronx's vibrant culture.
---
2. Arthur Avenue
-The Real Little Italy in New York is known to be Arthur Avenue.
-Famous for its authentic Italian restaurants and markets.
-A unique cultural experience in the heart of the Bronx.
---
3. Fordham
-Home to Fordham University and the New York Botanical Garden.
-Offers a mix of budget-friendly and mid-range hotel options.
-Great for students, nature enthusiasts, and academics.
---
4. Pelham Bay Park
-Pelham Bay Park is a tranquil haven away from the bustle of the city.
-Limited hotel options, so book in advance.
---
5. Hunts Point
-Known for its vibrant food scene, including the Hunts Point Produce Market.
-A unique destination for foodies.
-Limited hotel options; consider nearby neighborhoods for lodging.
---
6. Riverdale
-A suburban-like oasis in the Bronx.
-A variety of posh hotels and inviting bed-and-breakfasts are available in Riverdale.
-A peaceful retreat with easy access to Manhattan via public transportation.
---
What is the Average Cost of a Hotel Room in New York City?
New York City is renowned for its expensive hotel rates, but there is a wide range of options to suit different budgets. The cost of a hotel room in the city can vary significantly based on factors such as location, season, and hotel class. You can often anticipate the following pricing ranges:
Budget Hotels: $100 – $200 per night

Mid-Range Hotels: $200 – $400 per night

Luxury Hotels: $400+ per night
Keep in mind that these are average prices and can fluctuate depending on demand. Hotels in Manhattan tend to be more expensive than those hotels in the Bronx or other boroughs. Staying in hotels in the Bronx can be a cost-effective choice while still allowing easy access to Manhattan's attractions via public transportation.
Also Read: Exploring The Finest Hotels In Downtown Boston For A Relaxing Vacation
---
Best hotels in the Bronx
1. Residence Inn by Marriott the Bronx at the metro center atrium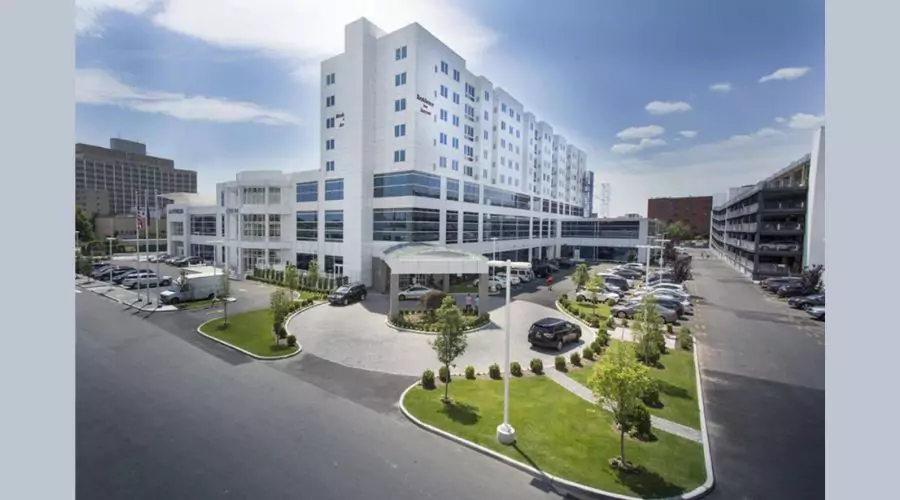 Residence Inn by Marriott The Bronx at Metro Centrum Atrium, situated in The Bronx, provides complimentary WiFi and private bathrooms with showers. The hotel offers free parking, laundry facilities, and a 24-hour front desk. Its convenient location places it 4.6 km from Bronx Zoo, 1.9 km from Bay Plaza Shopping Center, and 2.8 km from Pelham Bay Park. Newark Liberty International Airport is approximately 36 km away, making it a favored choice among couples with a high rating of 9.1 for two-person trips due to its ideal location.
---
2. Ramada by Wyndham Bronx
Nestled just off Interstate 95 in the Bronx, this hotel, the Ramada by Wyndham Bronx, offers convenient access to popular attractions, including the Bronx Zoo and the New York Botanical Garden, both located just 11 km away. Guests can enjoy complimentary WiFi in each room, which also includes a 32-inch flat-screen TV with HBO, a refrigerator, and a work desk. Start your day with a hot continental breakfast and take advantage of amenities such as a business center and dry cleaning services. The hotel's proximity to the Baychester Avenue subway station, 1.5 km away, provides easy access to Yankee Stadium, Central Park, Fordham University (25 minutes drive), and City Island's seafood restaurants (18 minutes drive).
---
2. Cabana Hotel Yankee Stadium
In the West Bronx district of Bronx, the Cabana Hotel Yankee Stadium offers air-conditioned rooms just 1.9 km away from Yankee Stadium. This 3-star hotel provides amenities such as room service, a 24-hour front desk, and complimentary WiFi, allowing guests to enjoy city views. The well-equipped rooms feature a desk, a flat-screen TV, and a private bathroom with bed linen and towels provided. Located 6.5 km from Columbia University and 6.9 km from the Bronx Zoo, the hotel offers convenience for both business and leisure travelers. LaGuardia Airport, the nearest airport, is approximately 14 km away.
---
3. Opera House Hotel
Situated within a historic building in the Bronx, this elegant New York City hotel is a mere 160 meters from the subway station and offers a daily continental breakfast. Each room at the Opera House Hotel is thoughtfully appointed with amenities such as a flat-screen cable TV, microwave, refrigerator, home systems with USB plugins, and a custom desk and chair. The train station is conveniently located just one block away from the property. The hotel also provides a business center, 24-hour front desk service, and concierge services for guests' convenience. Nearby attractions include Yankee Stadium (2.5 km away), the New York Botanical Garden (8 km away), Times Square (11 km away), Lincoln Hospital, and The Bronx Zoo, all just a short distance from the property.
---
4. Comfort Inn & Suites near Stadium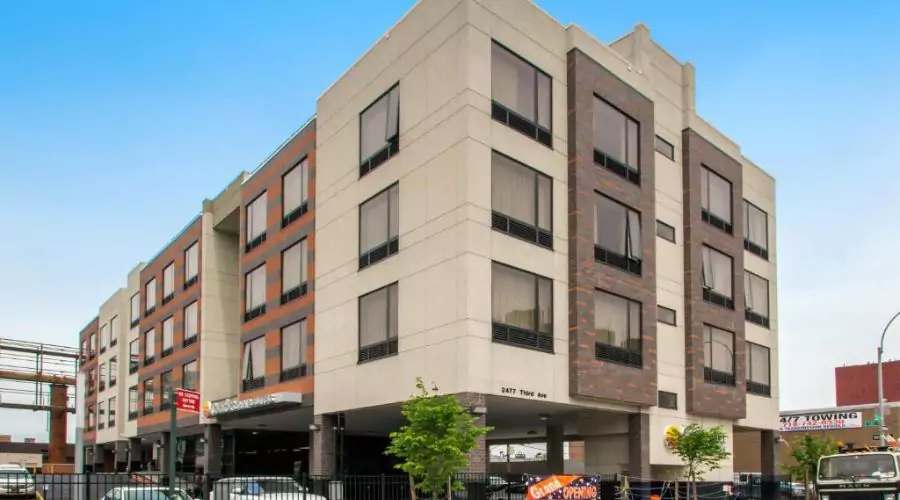 In the Bronx, The Comfort Inn & Suites near Stadium provides guests with complimentary WiFi. The hotel's proximity to attractions such as Yankee Stadium (2.5 km away) and the Bronx Zoo (6 km away) makes it a convenient choice. All rooms in this Bronx hotel are equipped with essential amenities including a microwave, refrigerator, coffee maker, TV, and hairdryer. Guests can start their day with a complimentary hot breakfast and take advantage of additional amenities such as an exercise room, business center, and daily free newspaper. Nearby points of interest include Wave Hill (14.5 km away), Woodlawn Cemetery (18.3 km away), and LaGuardia Airport (9.7 km away).
---
Hotels in the Bronx: Which Parts of the Bronx Are Safe?
Safety is a top priority when choosing accommodation in any city. The Bronx has made significant strides in improving safety in recent years, and many areas are now considered safe for tourists. Here are some safe neighborhoods in the Bronx:
Riverdale: This upscale neighborhood is known for its safety and low crime rates.

City Island: A charming waterfront community with a relaxed atmosphere and a reputation for safety.

Throgs Neck: A residential area with a strong sense of community and relatively low crime rates.

Pelham Bay: A family-friendly neighborhood with a focus on safety and community well-being.
Like any urban area, it's essential to exercise common sense and take precautions regardless of where you stay. Avoid walking alone in dimly lit areas at night and keep your belongings secure.
---
How Can I Find a New York Hotel Discount?
Finding discounts for hotels in New York City can help you save money on your trip. Here are some valuable tips to score great deals:
Use Booking Platforms; Websites like Booking, Expedia, and TripAdvisor often offer discounts and special rates. Check for deals on the official website of the hotel you're interested in.

Book in Advance: Early bookings can often secure lower rates, especially during peak tourist seasons. Consider booking several months ahead of your trip to lock in lower prices.

Travel During Off-Peak Seasons: Hotel rates are generally lower during the winter months (except for the holiday season). Visit during the shoulder seasons (spring and fall) to enjoy milder weather and lower prices.

Join Loyalty Programs: Many hotel chains have loyalty programs that offer discounts and perks to members. Sign up for these programs before your trip to take advantage of their benefits.

Look for Package Deals: Some travel agencies offer package deals that bundle hotel stays with airfare or other attractions. These packages can provide significant savings.

Consider Alternative Accommodation: Explore options like Airbnb or vacation rentals for a potentially more budget-friendly experience. Look for apartments or rooms in residential areas for a local experience.

Negotiate: Inquire about discounts, especially if you're staying for an extended period. Politely ask if the hotel can offer a better rate or any complimentary upgrades.

Subscribe to Deal Newsletters; Subscribe to newsletters from travel deal websites to receive notifications about limited-time offers and discounts.
---
Conclusion 
Hotels in the Bronx offer a diverse range of options for travelers looking to experience New York City from a unique perspective. Booking provides a comprehensive selection of accommodations to suit various preferences and budgets. Whether you choose to stay near iconic landmarks like Yankee Stadium or immerse yourself in the authentic Italian culture of Arthur Avenue, the Bronx has something to offer every visitor. With a mix of budget-friendly and mid-range hotels in the Bronx, finding a suitable place to stay is made easier. By exploring the Bronx, you can enjoy a different side of the city while still having access to Manhattan's attractions via public transportation. Booking makes it effortless to find and secure the perfect accommodation for your stay in the Bronx, allowing you to make the most of your New York City adventure. For more information, visit NomadsColumn.
FAQs