Las Vegas, often referred to as Sin City is also known as the "Entertainment Capital of the World," and is synonymous with luxury, glamour, and world-class entertainment. Its reputation as the Entertainment Capital of the World precedes it, drawing millions of visitors from around the globe each year. While you may associate Las Vegas primarily with casinos and nightlife, there's so much more to discover in this vibrant city. This dazzling city in the Nevada desert is home to some of the best hotels in Las Vegas and resorts on the planet.
Best Hotels in Las Vegas: Why you should visit Las Vegas:
1. World-Class Entertainment
Las Vegas is synonymous with top-notch entertainment. From headlining residencies by world-famous artists and jaw-dropping magic shows to mesmerizing Cirque du Soleil performances, the city boasts a diverse array of entertainment options. Whether you're into music, theater, or comedy, you'll find something that tickles your fancy.
2. Iconic Casinos and Gambling
Las Vegas is home to some of the most iconic casinos in the world, where you can try your luck at slot machines, poker tables, and roulette wheels. Even if you're not a gambler, the sheer opulence and grandeur of these establishments are worth experiencing. Stroll down the famous Las Vegas Strip, where each casino is a world unto itself.
3. Culinary Delights
Las Vegas has evolved into a culinary powerhouse with a thriving food scene. Renowned chefs from around the globe have set up shop here, offering a wide range of gastronomic experiences. From Michelin-starred restaurants to food trucks serving delectable street food, Las Vegas has something to satisfy every palate.
4. Vibrant Nightlife
If you're a night owl, Las Vegas is your playground. The city's nightlife is legendary, with world-class nightclubs, bars, and lounges that cater to every taste. Whether you prefer dancing until dawn, sipping cocktails by the pool, or enjoying a quiet jazz club, Las Vegas has a nightlife scene that won't disappoint.
5. Stunning Hotels and Resorts
Las Vegas is home to some of the most lavish resorts and hotels in the whole globe. These properties aren't just places to sleep; they're attractions in themselves. From the opulent Venetian Resort with its gondola rides to the Bellagio Hotel with its famous fountains, staying at one of these hotels is an experience in itself.
6. Unique Experiences
Las Vegas offers a plethora of unique experiences you won't find anywhere else. Want to get married to Elvis in a chapel? You can do that. Interested in indoor skydiving or racing exotic cars? You can do that too. Whether you're seeking adrenaline-pumping adventures or quirky, offbeat activities, Las Vegas has it all.
7. Proximity to Natural Wonders
While Las Vegas is known for its glitz and glamour, it's also a gateway to some of America's most stunning natural wonders. Within a few hours' drive, you can visit the awe-inspiring Grand Canyon, explore the otherworldly landscapes of Death Valley, or hike through the picturesque Red Rock Canyon. Las Vegas serves as an excellent base for day trips to these natural wonders.
Also Read: The Ultimate Guide To Resorts In Orlando
Best Hotels in Las Vegas
1.   The Berkley, Las Vegas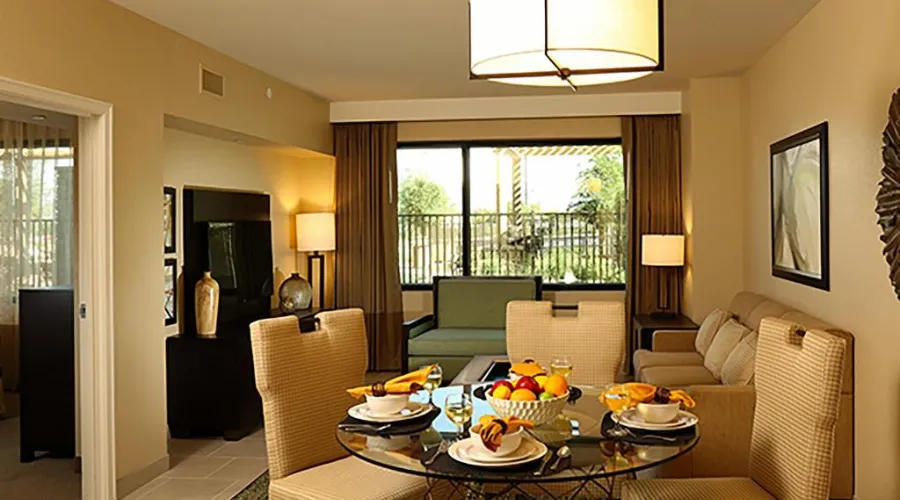 The Berkley, Las Vegas is an 18-story resort located just 8 km from the Las Vegas Strip in the Village of Silverton. It offers comfortable suites with kitchen facilities, an outdoor pool, and BBQ facilities. Each suite features a cable TV in the living room and bedroom, as well as a washer and dryer. Guests also have access to a fitness center, activity center, and business center. The resort is conveniently located near restaurants, bars, casinos, and a Bass Pro Shop, with McCarran International Airport 9 km away and South Premium Outlet Mall 3.8 km away.
2.   Marriott's Grand Chateau
Marriott's Grand Chateau, located a 15-minute walk from the Las Vegas Strip, is a non-gaming and non-smoking hotel offering air-conditioned rooms with free WiFi. Guests can enjoy amenities such as an outdoor pool and complimentary valet parking. Each modern room features a flat-screen TV, microwave, and mini-refrigerator, with select rooms offering panoramic views of the Strip. The hotel also boasts various dining options, including a marketplace and a rooftop Sky Bar with sunset views. Access to the fitness center and hot tub is complimentary for all guests, and the Hard Rock Casino is a 20-minute walk away.
3.   M Resort Spa & Casino
Situated off Interstate 15 on the South Las Vegas Strip, M Resort Spa & Casino offers non-stop entertainment, diverse dining options, and complimentary guest parking. The resort boasts upscale rooms with 42-inch flat-screen HDTVs, marble-floored bathrooms, and in-room amenities. Dining choices range from Anthony's Steakhouse to Ravello Lounge with live entertainment. The resort also features a full-service spa, gaming floor, and convenient shuttle service to Harry Reid International Airport. Top-rated golf courses are nearby, and downtown attractions are just a 20-minute drive away.
4.   Strip View Penthouse w/Balcony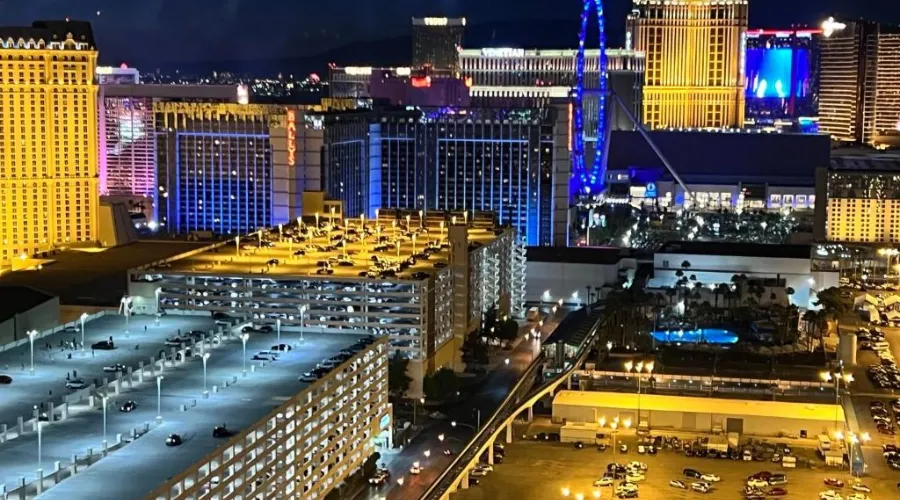 Located in the heart of Las Vegas, just a short distance from the Eiffel Tower at the Paris Hotel and Crystals Shopping Center, Strip View Penthouse w/Balcony provides free WiFi, air conditioning, and essential amenities like a microwave and coffee maker. This homestay features a pool with city views, water sports facilities, and an on-site restaurant. The penthouse includes 1 bedroom, 1 bathroom, bed linens, towels, a flat-screen TV, a dining area, a fully equipped kitchenette, and a terrace with city views. Private parking is available. Guests can also enjoy a 5-star experience with a hot tub and outdoor fireplace, as well as access to a casino and a kids' pool. Nearby attractions include CityCenter Las Vegas, Bellagio Fountains, and Bellagio Conservatory and Botanical Gardens, with Harry Reid International Airport just 1 km away.
5.   Luxury Lake Las Vegas Condo with Resort Amenities!
Luxury Lake Las Vegas Condo with Resort Amenities! is situated in Las Vegas, Nevada, and offers a balcony. This 2-bedroom apartment is 27 km from the Crystals Shopping Center and offers free WiFi throughout the property. It features a living room with a flat-screen TV, a fully equipped kitchen with a dishwasher and oven, and two bathrooms with a hair dryer. Towels and bed linen are provided. The apartment is also located 27 km from the Eiffel Tower at Paris Hotel and Bellagio Fountains. Harry Reid International Airport is the nearest airport, located 22 km away.
How to Make a Reservation at the Best Hotels Las Vegas
Booking a room at one of these luxurious Las Vegas hotels is easy and can be done through various platforms, including Booking. Here's a quick guide:
Visit Booking: Go to the Booking website or mobile app.
Enter Your Destination: Type "Las Vegas" into the search bar.
Select Dates: Select the dates for check-in and check-out.
Filter Your Search: Use filters to refine your search based on your preferences, such as price range, star rating, and amenities.
Choose the best hotels in Las Vegas: Browse the available options, read reviews, and select your desired hotel.
Make a Reservation: Click on the best hotels in Las Vegas, review the room options, and select the one that suits your needs.
Complete the Booking: Provide your details, and payment information, and confirm your reservation.
What Amenities Are Included in Las Vegas Hotel Resort Fees?
The best hotels in Las Vegas often charge resort fees, which cover various amenities and services. While the specific inclusions can vary, typical resort fees may cover:
Wi-Fi: Access to high-speed internet.
Fitness Center: Use of the hotel's gym facilities.
Pool Access: Admission to pool areas, including towels and lounge chairs.
Local Calls: Complimentary local phone calls.
Newspapers: Daily newspapers are available in the lobby.
Parking: Self-parking or valet services.
Shuttle Service: Transportation to nearby attractions or the airport.
It's important to check the resort fee details for your chosen hotel, as they can vary widely. Keep in mind that resort fees are typically not included in the initial room rate and will be added to your bill upon check-out.
What Is the Maximum Number of Guests Allowed in a Hotel Room in Las Vegas?
The maximum number of guests allowed in a hotel room in Las Vegas can vary depending on the hotel's policy and the type of room you book. Typically, standard hotel rooms in Las Vegas are designed to accommodate up to four guests comfortably, with two queen or double beds. Suites and larger room categories may have higher occupancy limits, often accommodating six or more guests.
However, it's essential to check the specific hotel's policies and room descriptions when making your reservation. Some of the best hotels in Las Vegas may offer options for extra beds or sofa beds to accommodate additional guests, while others may enforce strict occupancy limits to ensure guest safety and comfort.
---
Also Read – Top 10 Hotels In San Francisco: Pick The Best Hotels For Your Stay
---
Conclusion
The wide array of best hotels in Las Vegas and resorts, each comes with its unique charm and entertainment options. Booking simplifies the reservation process, making it easy to find the perfect accommodation based on your preferences and budget. Remember to check resort fees and room occupancy limits before booking, ensuring a seamless and enjoyable stay in the entertainment capital of the world. Las Vegas has something for everyone, from world-class entertainment and dining to iconic casinos and vibrant nightlife, making it a must-visit destination for travelers. For more information, visit Nomadscolumn.
FAQs