Imagine unwinding at a posh Beverly Hills hotel, complete with plush amenities, dazzling views, and celebrity sightings. Booking.com makes this Hollywood fantasy achievable with their list of the area's top hotels. 
Whether you seek modern luxuries or old Hollywood charm, discover the perfect Beverly Hills hotels on Booking.com. This blog shares insider tips for choosing stellar Beverly Hills hotels to match your style. So, without any further ado, let's dive into planning an unforgettable LA getaway.  
1. Plan Your Dream Vacation with Our Comprehensive Guide to Beverly Hills Hotels
Beverly Hills, a glamorous enclave within Los Angeles, epitomises luxury with its opulent hotels, celebrity allure, and elite shopping. Planning your dream getaway to this iconic city starts seamlessly with Booking.com.
Explore a diverse array of Beverly Hills hotels on Booking.com, ranging from budget-friendly motels to lavish five-star resorts. Navigating this wealth of options is made easy with Booking.com's comprehensive guide to Beverly Hills hotels.
Discover everything you need to know in this guide, including insights into different neighbourhoods, top-rated hotels based on guest reviews, and guidance on selecting the right amenities—whether it's a pool, spa, or fitness centre.
Uncover tips for securing the best deals when booking Beverly Hills hotels, ensuring a luxurious stay without breaking the bank. Once your perfect hotel is selected, delve into the rest of your dream vacation planning with Booking.com's offerings of diverse activities and attractions.
Craft a 3-day dream itinerary for your Beverly Hills escape:
1. Day 1
– Morning: Check into your Beverly Hills hotel.
– Afternoon: Immerse yourself in the allure of Rodeo Drive, a world-renowned shopping street. Indulge in high-end boutiques or soak in the atmosphere.
– Evening: Savour dinner at a celebrity-owned restaurant like Mr. Chow for Chinese cuisine or Matsuhisa for Japanese delights.
2. Day 2
– Morning: Explore Universal Studios Hollywood, a famed theme park and movie studio. Take a behind-the-scenes tour, enjoy thrilling rides, and encounter beloved movie characters.
– Afternoon: Relish lunch at one of Universal Studios Hollywood's restaurants, such as the Three Broomsticks or Leaky Cauldron for Wizarding World-themed cuisine.
– Evening: Attend a show at the Hollywood Bowl, an outdoor amphitheatre hosting diverse concerts and performances.
3. Day 3
– Morning: Embark on a visit to the Getty Center, a museum complex with panoramic views of Los Angeles. Explore European paintings, sculptures, illuminated manuscripts, decorative arts, and photographs.
– Afternoon: Lunch at the Getty Center Restaurant, boasting panoramic city views.
– Evening: Dine at a rooftop restaurant like Perch for stunning cityscapes or Mama Shelter for a lively atmosphere.
Customise this sample itinerary to match your interests and budget with ease, courtesy of Booking.com. Plan your ideal dream vacation to the captivating Beverly Hills effortlessly.
2. Find the Perfect Beverly Hills Hotels for Your Vacation Budget
1. The Beverly Hills Hotel – Dorchester Collection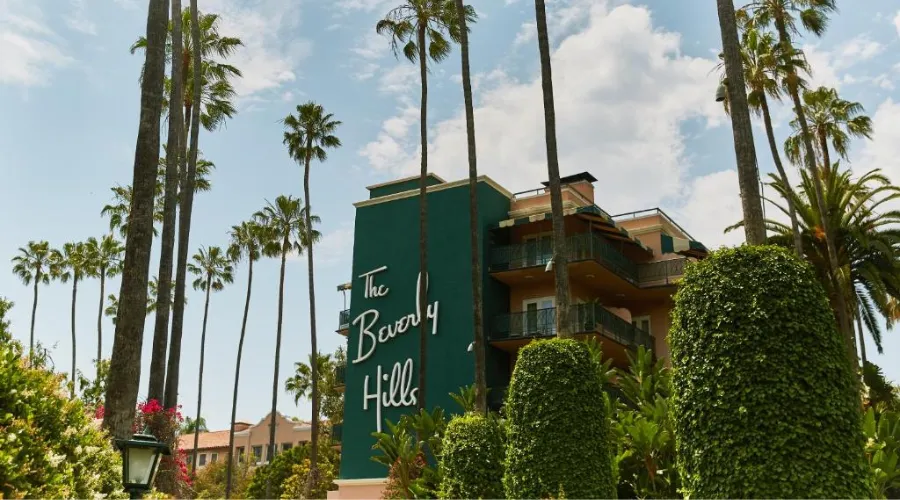 Dubbed "The Pink Palace," this luxurious Beverly Hills Hotel boasts a full-service spa and a stunning outdoor pool. Only 1.6 km from downtown Beverly Hills Hotels, this one of the best Beverly Hills hotels offers bright and elegant rooms with marble bathrooms, TVs, and minibars. Suites pay homage to legacy, while bungalows provide a Hollywood experience inspired by famous guests.
Celebrities favour The Polo Lounge for dining, while the 1950s-style Fountain Coffee Room and The Cabana Cafe offer casual options. The hotel's pool, complete with underwater music, private cabanas, and personalised staff service, epitomises glamour. The fitness centre complements workouts with free fruit, juices, and water, ensuring a lavish experience for guests.
2. Four Seasons Hotel Los Angeles at Beverly Hills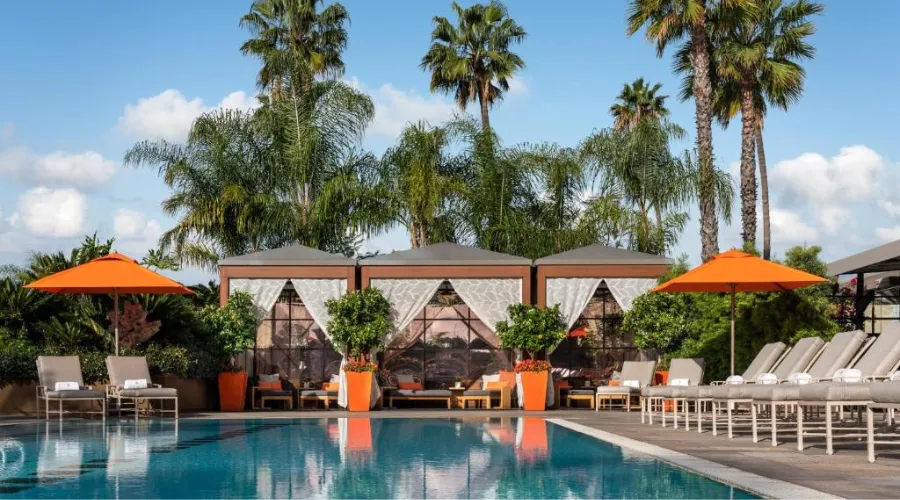 Nestled in the heart of Los Angeles, this opulent 5-star hotel, the Four Seasons Los Angeles at Beverly Hills, offers a luxurious retreat with rooms featuring French doors that open to private balconies. Embrace the splendour with air-conditioned rooms providing views of gardens, Hollywood Hills, Los Angeles, or Beverly Hills Hotels. Furnished with a living area, cable TV, DVD player, and iPod docking station, each room is a haven of comfort.
Indulge in on-site dining, offering both indoor and outdoor seating, with a focus on exquisite Italian cuisine. Sip cocktails at the Windows Lounge within the Four Seasons Los Angeles.
The hotel boasts a library and gym for guests to enjoy, and relaxation options include a sauna. A business centre caters to the needs of business travellers, ensuring a seamless blend of luxury and functionality.
3. Beverly Wilshire, A Four Seasons Hotel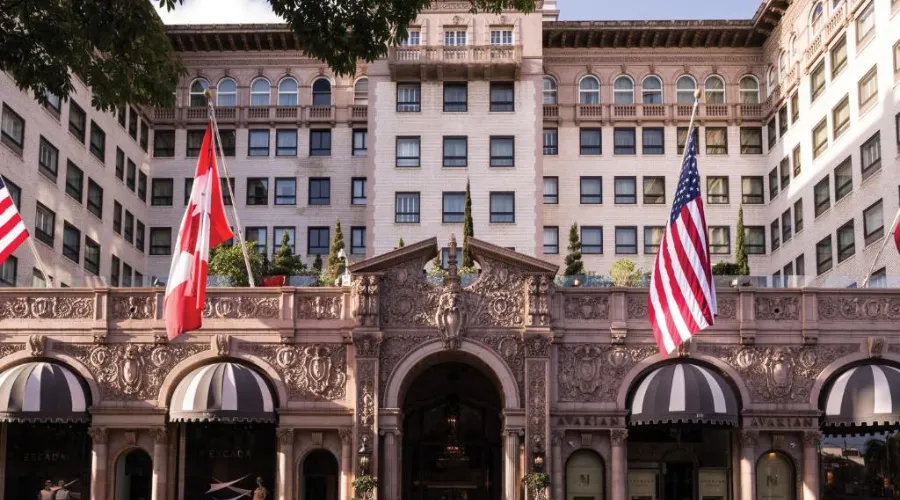 Situated across from the famed Rodeo Drive, Beverly Wilshire, a Four Seasons Hotel, boasts a Mediterranean-style pool and hot tub with exclusive cabanas. Perfectly positioned for Rodeo Drive shopping and close to Hollywood, Santa Monica, and Venice Beach, this property offers flat-screen cable TVs, free WiFi for one device, DVD players, iPod docking stations, and minibars in its rooms. Being one of the best hotels in Beverly Hills, most rooms showcase views of Rodeo Drive or the Hollywood Hills.
Indulge in The Spa for massages, facials, and organic treatments, complemented by a fitness centre with cutting-edge equipment. Guests enjoy complimentary fresh fruit, juice, bottled water, and fruit-infused water. Meeting centres are available, and the pool offers cabanas for a surcharge, with a poolside bar and café providing lunch options. Beverly Wilshire epitomises luxury and convenience in the heart of Beverly Hills Hotels.
ALSO READ : Washington DC Hotels: Discover The Best Places To Stay In The Nation's Capital
---
Conclusion
Surround yourself with luxury, glamour, and impeccable service by booking one of Booking.com's magnificent Beverly Hills hotels. With their stellar selection of properties, you can easily find a hotel that brings your LA dreams to life. 
Use the tips mentioned in this blog to secure the ideal retreat in this iconic neighbourhood. Get ready for an unforgettable vacation with an amazing Beverly Hills hotel from Booking.com! Visit their website today to explore the cheap hotels in Beverly Hills.
Besides, if you want to read more such informative and interesting blogs, follow our website Nomadscoloumn. 
FAQs