Chicago dazzles visitors with its world-class museums, outstanding architecture, stellar dining scene, and endless entertainment options. From scenic lakefront trails to eclectic neighbourhoods bursting with energy, there are a lot of incredible experiences and things to do in Chicago, Illinois.
This Midwest metropolis has something for everyone. Foodies savour deep-dish pizza and high-end tasting menus. Arts lovers marvel at masterpieces at the Art Institute and photograph Cloud Gate in Millennium Park. Sports fans cheer on the Cubs and Blackhawks. There are attractions to fill any itinerary.
Ready to explore this vibrant city? Here are can't-miss things to do in Chicago, Illinois, for an unforgettable getaway. Whether it's your first time in Chi-Town or you're back for more, these iconic attractions capture the spirit of this remarkable city.
1. Take in Panoramic Views from the Willis Tower Skydeck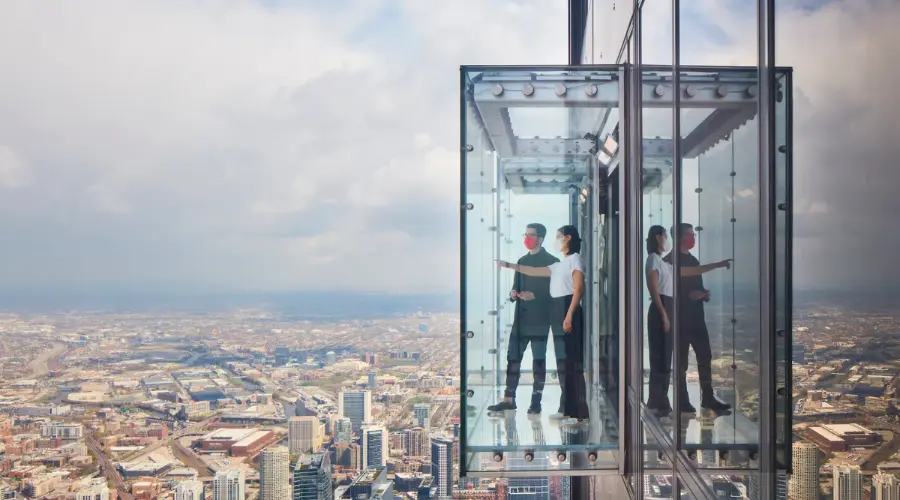 No trip to Chicago is complete without a visit to the Skydeck at Willis Tower, the city's tallest building. At 1,353 feet high, this skyscraper offers unmatched views from the 103rd-floor observation deck. The glass boxes jutting out suspend you 1353 feet in the air for a thrilling perspective. Enjoy interactive exhibits in Chicago before ascending to the Skydeck for jaw-dropping vistas of the city and Lake Michigan. It's one of the top things to do in Chicago, Illinois.
2. Wander Along the Lakefront Trail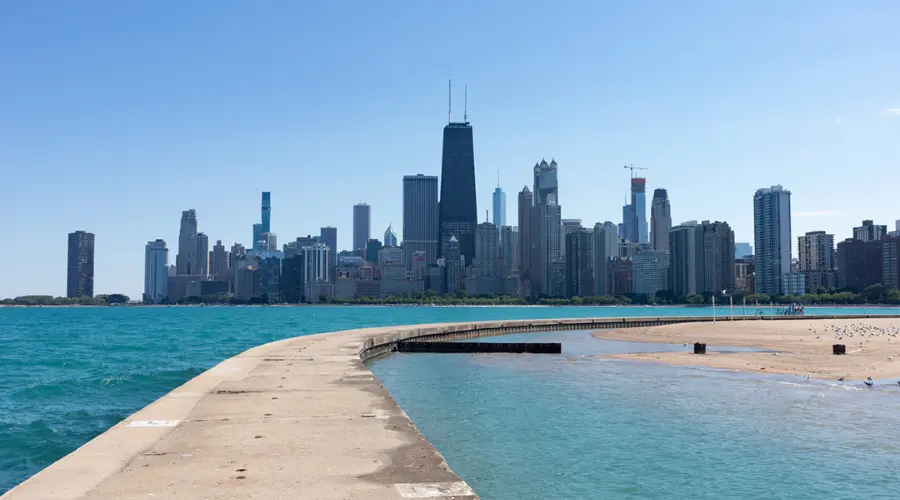 Chicagoans adore their beloved lakefront, and a walk along the 18-mile Lakefront Trail lets you experience it, too. Get a close-up view of Lake Michigan's shimmering waters and cityscape panoramas as you stroll or bike this popular paved path. Watch boats cruise the harbours, see volleyball games on North Avenue Beach, and find hidden pockets of green space. Don't miss the epic views of Chicago's skyline from Fullerton Avenue. Lakeside restaurants like The Dock at Montrose Beach are perfect pit stops while exploring the top things to do in Chicago, Illinois.
3. Take a Chicago Architecture Tour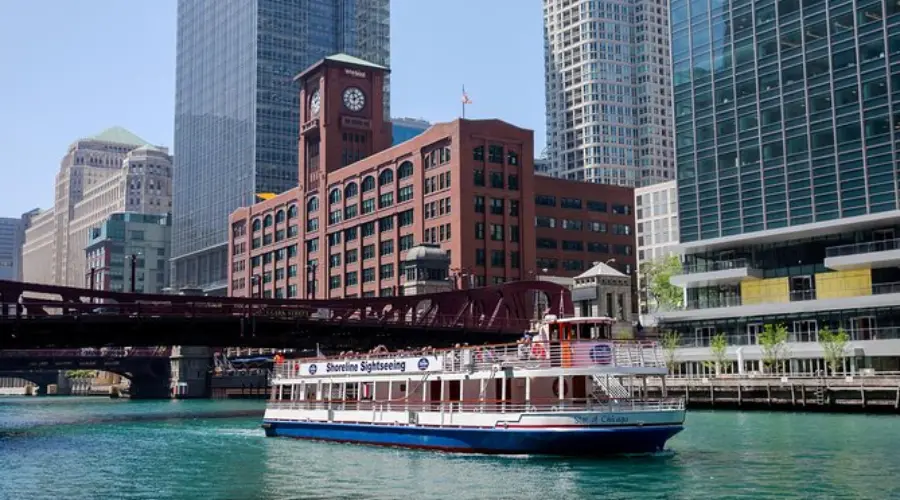 Being the birthplace of the skyscraper, Chicago stands as a pilgrimage site for those passionate about architecture. Learn all about the city's iconic buildings and neighbourhoods on a fascinating architecture tour, one of the top things to do in Chicago, Illinois. Many companies like Shoreline Sightseeing offer tours highlighting everything from the Loop's historic skyscrapers to Frank Lloyd Wright's homes. Or choose a boat tour for gorgeous waterfront views of the Willis Tower, Tribune Tower, Aqua Tower and more. There's no better way to admire Chicago's architectural splendour.
4. Explore Art Institutes Distinguished Collection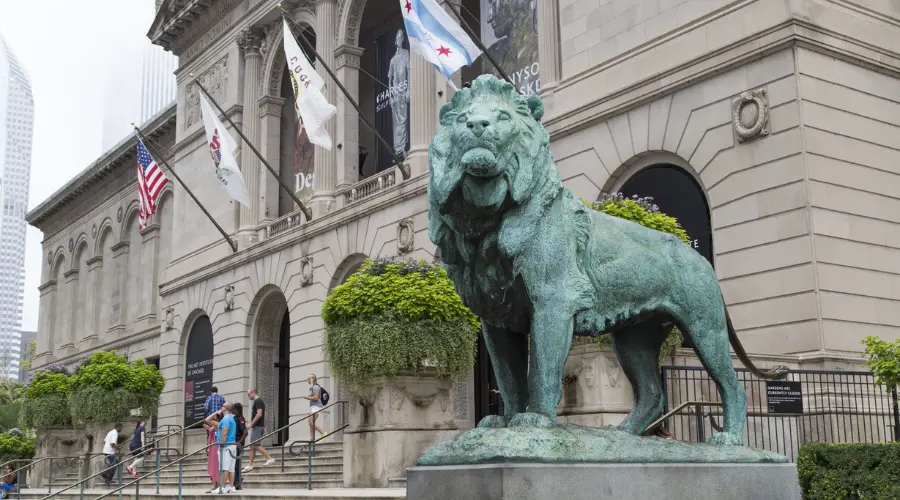 With its expansive galleries housing over 300,000 works, the Art Institute of Chicago is one of the world's great art museums. For all the art lovers, here's one of the most popular things to do in Chicago, Illinois – see iconic pieces like Edward Hopper's "Nighthawks" and Grant Wood's "American Gothic". Wander hallways adorned with Impressionist and Post-Impressionist masterworks from Monet, Renoir, and Van Gogh. Modern paintings, photography, textiles, sculpture, and more await. Sign up for a guided highlights tour, take an art class, or admire works on your own on a self-guided audio tour.
5. Spend an Afternoon in Millennium Park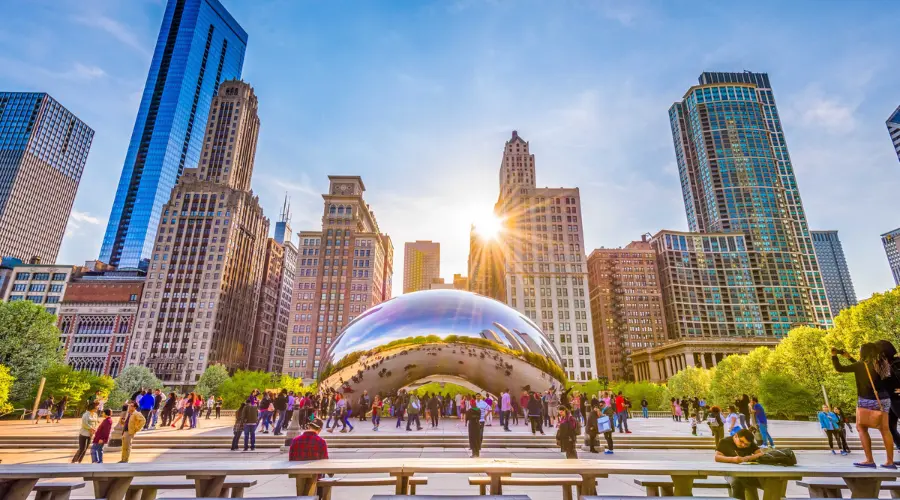 Adjacent to the Art Institute, Millennium Park is Chicago's crown jewel of public spaces. Marvel at the futuristic Frank Gehry-designed Pritzker Pavilion and its soaring steel ribbons. Kids love splashing in the interactive Crown Fountain. Of course, the city icon is "Cloud Gate", Anish Kapoor's gleaming stainless steel "Bean" sculpture. Snap selfies and admire the cityscape reflections. Check the schedule for free concerts at the Pritzker Pavilion from June through September.
6. Experience 360° Views from John Hancock Observatory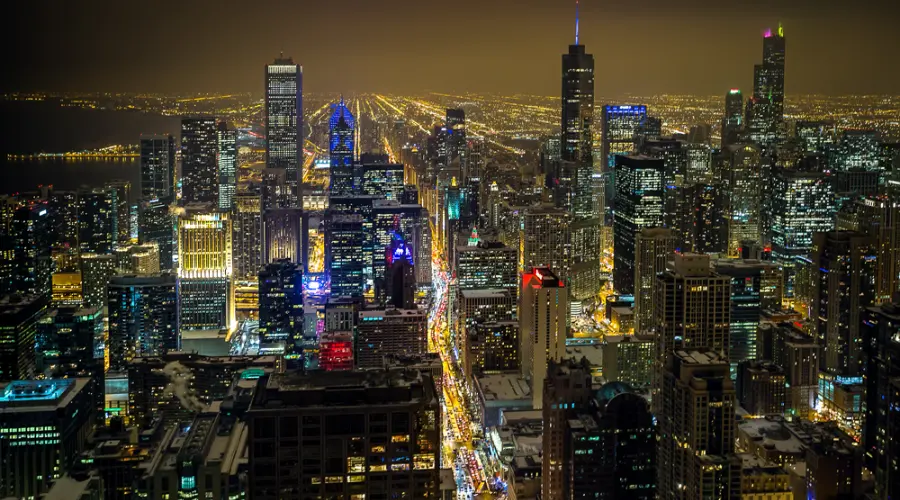 For sky-high views of Chicago, visit the 94th-floor observatory atop John Hancock Center, one of the top things to do in Chicago, Illinois. Floor-to-ceiling windows provide a 360-degree perspective of the city and suburbs stretching all around you. Interactive screens identify different landmarks. The open-air Skywalk tilting out over Michigan Avenue amps up vertigo. Enjoy a drink or bite at the elegant Signature Room restaurant on the 95th floor too. The views mesmerise day or night.
7. See a Show at the Iconic Chicago Theatre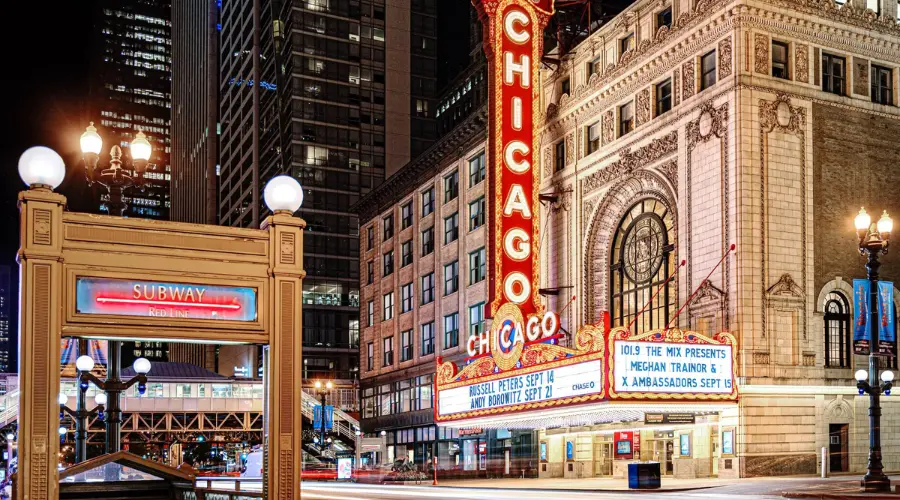 Dating to 1921, the grand Chicago Theatre dazzles audiences with its Baroque interior and stellar entertainment lineup. Catch a comedy show, concert, Broadway play, or special event in this glamorous space – definitely one of the most exciting things to do in Chicago, Illinois, for all theatre lovers. Guided tours take you backstage, into its opulent lobbies, and up to the mezzanine for interior views. Marquee tours spotlight the iconic six-story sign on State Street. 
8. Cheer on the Cubs at Wrigley Field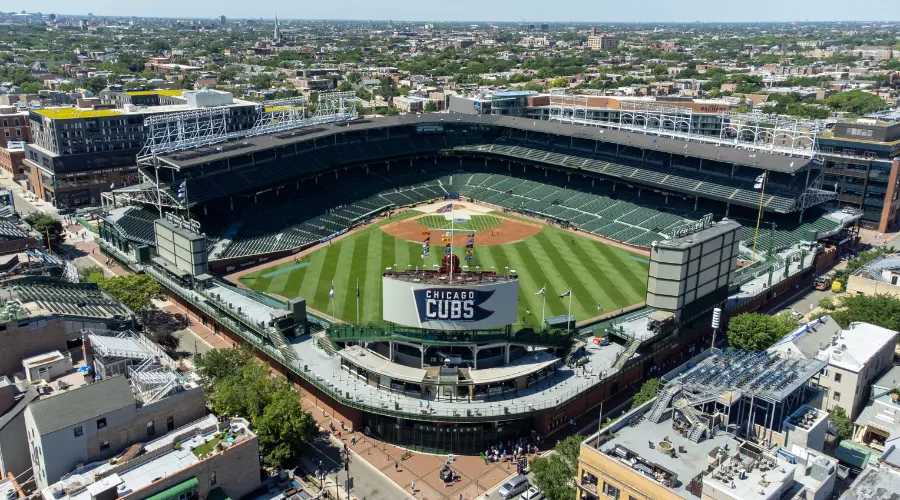 Baseball fans shouldn't miss visiting Wrigley Field, the beloved 1914 home of the Chicago Cubs. Guided tours reveal insider details and take you down to the dugouts and field. The ballpark has an old-school charm with festive bleachers, ivy-covered brick walls, a vintage hand-operated scoreboard, and rooftop seating across the street. If you can, catch an afternoon Cubs game and join in singing "Take Me Out to the Ballgame" during the 7th-inning stretch – it will definitely be one of the most memorable things to do in Chicago, Illinois.
9. Taste Chicago's Famous Deep Dish Pizza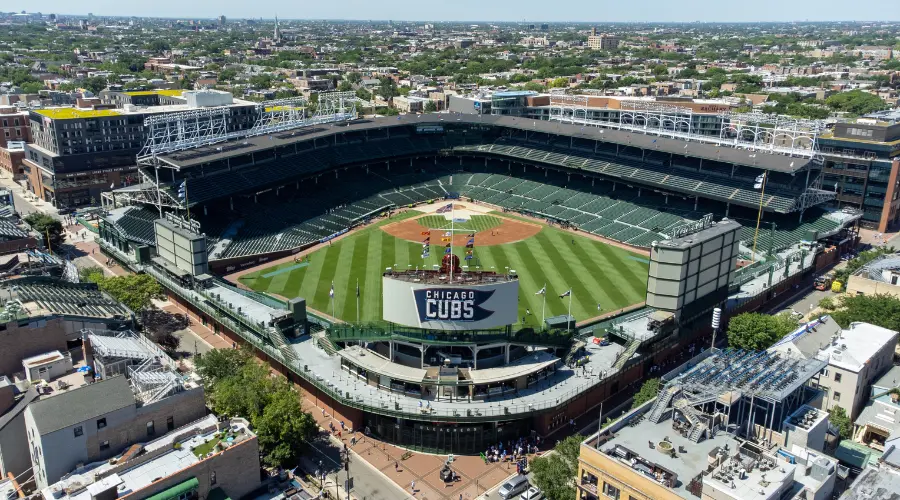 No visit to Chicago is complete without sampling their quintessential deep dish pizza with its thick, buttery crust and mounds of cheese. Lou Malnati's Pizzeria claims to have invented it in 1943. Other favourites are Pizzeria Uno, Gino's East, and Pequod's Pizza. For an authentic ambience, dine at one of their original locations, often adorned with local memorabilia. Don't wear your skinny jeans! Chicago pizza is deliciously hearty.
10. Cycle The 606 Through Vibrant Neighborhoods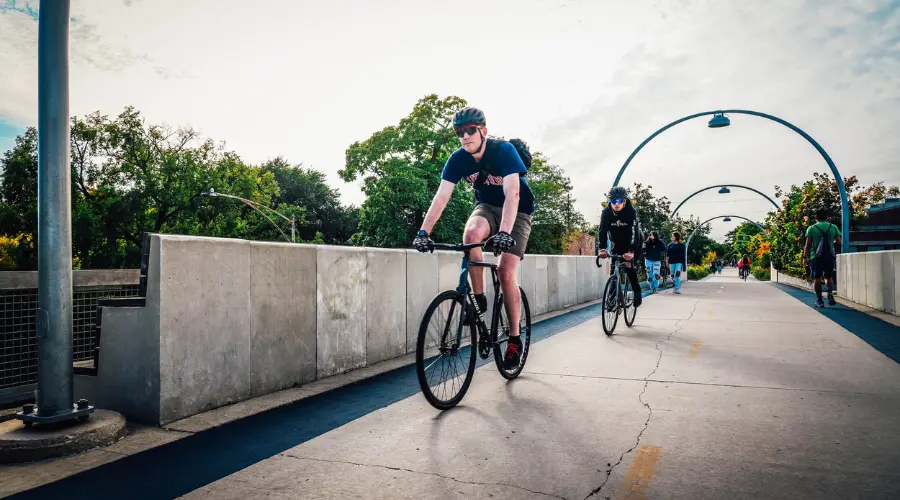 Urban adventurers will love The 606, an elevated 2.7-mile trail through Chicago's northwest side neighbourhoods. This repurposed railroad corridor provides car-free biking, running, and walking above city streets. Hop on at one of many access points and cruise through areas like Bucktown, Wicker Park, Humboldt Park, and Logan Square, admiring public art and city views. Stop for a bite or browse boutiques in these trendy communities with cool industrial flair. It's one of the top things to do in Chicago Illinois, where you can mingle with locals and see more of the city.
11. See Unique Exhibits at the Museum of Science and Industry
With 14 acres of exhibits, the Museum of Science and Industry is the largest science museum in the Western Hemisphere. Step inside the towering rotunda and marvel at the working model railroad with its detailed mini Chicago landscape. Other favourites include the Coal Mine simulating a real 600-foot descent, the German U-505 submarine, the chick hatchery, and the 8-story Omnimax wraparound movie screen. Interactive displays like Science Storms make learning physics fun, even for kids. So indulge in this one of the best things to do in Chicago, Illinois, with your little ones.
12. Cruise Down the Chicago River
See the towering skyline from a new angle on an entertaining Chicago River architecture tour cruise. Your guide will point out over 50 buildings along the Main, North, and South Branches while offering fun tales about the city. Pass under charming old bridges and see the hidden sides of iconic structures – one of the top things to do in Chicago, Illinois. At night, the glittering lights are extra magical. From spring through fall, you can even enjoy fun-themed cruises focused on pizza, beer, jazz, etc. A river tour offers a unique city perspective you don't get on land!
13. Indulge in Chicago's Renowned Restaurant Scene
One of the top things to do in Chicago this weekend would be to eat your way through the city with its incredible culinary diversity. Find James Beard Award-winning chefs like Rick Bayless dishing up inventive Mexican fare in the lively West Loop neighbourhood. Steakhouses like Gibson's on Rush satisfy carnivores' cravings. Trendy Randolph Street entices with hip eateries boasting seasonal fare. And don't forget Chinatown's authentic Asian options. Wherever you dine, you'll find world-class cuisine in this foodie mecca. Exploring the culinary delights is one of the top things to do in Chicago, Illinois, for all the foodies. 
Also read: A Nightclub Guide to Unlocking the Best Experiences: What To Do On Your Clubbing Adventures
Conclusion
With its vibrant neighbourhoods, cultural riches, stellar dining, and fun on the shores of Lake Michigan, there are endless things to do in Chicago, Illinois. See the city's highlights, strike out into distinct communities, and even catch a sports game or show during your Windy City getaway. You'll find unforgettable adventures around every corner of this Midwest gem. Just wear comfortable shoes because you'll want to explore as much as possible! If you are looking for more things to do in Chicago, Illinois or anywhere else, then visit Nomads Column – a haven for travellers where they can stay up to date!
FAQs