When it comes to planning a vacation, the allure of tropical destinations cannot be denied. While many dream of exotic getaways to far-flung islands, it's important to remember that the United States boasts several breathtaking tropical destinations of its own. From stunning beaches and lush landscapes to vibrant culture and warm hospitality, these domestic best tropical vacations offer an unforgettable experience.
Some of the best tropical vacations in the US
1. Hawaiian Haven: The Aloha State's Tropical Majesty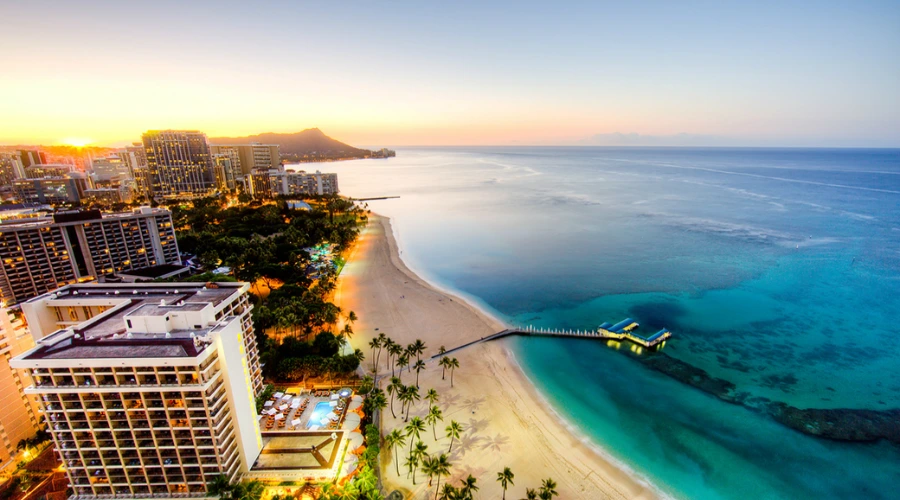 Hawaii, the epitome of tropical bliss, presents an idyllic vacation destination with its stunning landscapes and rich Polynesian heritage. From the azure waters and golden beaches of Waikiki in Oahu to the awe-inspiring volcanic landscapes of the Big Island, Hawaii offers diverse experiences for every traveler. 
Explore the picturesque road to Hana in Maui, snorkel in the crystal-clear waters of Molokini, or witness the fiery spectacle of Kilauea Volcano. With its warm weather, friendly locals, and a myriad of outdoor activities, Hawaii is undoubtedly one of the best tropical vacations in the US.
---
2. Florida Keys: America's Caribbean Escape
Nestled at the southernmost tip of Florida, the Florida Keys is a tropical haven unlike any other. The archipelago stretches over 100 miles, offering a series of paradisiacal islands connected by the scenic Overseas Highway. Key West, the southernmost island, is renowned for its vibrant nightlife, historic charm, and breathtaking sunsets. 
Meanwhile, Islamorada and Marathon lure visitors with their world-class fishing and water sports opportunities. Snorkeling or diving in the Florida Keys' coral reefs, part of the only living barrier reef in the continental United States, is an experience not to be missed. The Florida Keys provide a convenient tropical escape for those seeking relaxation, adventure, and vibrant marine life.
---
3. Puerto Rico: The Enchanting Island of Rich Heritage
Located in the Caribbean, Puerto Rico is an unincorporated US territory that promises an enchanting tropical experience. With its fusion of Spanish, Taino, and African influences, the island offers a unique blend of cultures, delicious cuisine, and vibrant festivals. From the colorful streets of Old San Juan, a UNESCO World Heritage Site, to the bioluminescent bay of Vieques, Puerto Rico boasts captivating attractions. 
Visitors can indulge in sun-soaked beaches, explore El Yunque National Forest, the only tropical rainforest in the US National Forest System, or hike to the mesmerizing Toro Negro waterfall. Puerto Rico's tropical charm combined with its easy accessibility for US citizens makes it an enticing tropical vacation destination.
---
4. U.S. Virgin Islands: Caribbean Gems with American Convenience
Situated in the Caribbean Sea, the U.S. Virgin Islands offer an exotic escape with the added convenience of being part of the United States. Comprising three main islands—St. Thomas, St. John, and St. Croix—this tropical paradise boasts pristine beaches, turquoise waters, and a laid-back atmosphere. 
St. Thomas offers vibrant shopping, while St. John entices nature enthusiasts with its protected national park and secluded coves. St. Croix, the largest of the three, showcases historic architecture, rum distilleries, and the enchanting Buck Island Reef National Monument. With their year-round tropical climate, the U.S. Virgin Islands provide an ideal setting for snorkeling, sailing, and immersing oneself in the vibrant Caribbean culture.
Reasons to go for best tropical vacations in the US by Vrbo
When it comes to planning a vacation, few destinations are as enchanting and captivating as the tropical paradises in the United States. From pristine beaches and crystal-clear waters to lush rainforests and vibrant marine life, these destinations offer a remarkable getaway experience. Among the various platforms available, Vrbo stands out as a trusted source for finding the best accommodations for your tropical vacation. 
I. Wide Range of Choices
Vrbo boasts an extensive selection of properties, ensuring that you find the perfect accommodation for your tropical vacation. Whether you're looking for a luxurious beachfront villa, a cozy bungalow nestled amidst lush greenery, or a spacious vacation rental for the whole family, Vrbo has it all. The platform allows you to filter your search based on location, amenities, and price range, enabling you to find the best tropical vacations rental that suits your preferences and budget.
II. Exquisite Beach Destinations
The US is home to numerous breathtaking beach destinations that offer the perfect setting for a tropical getaway. From the Hawaiian Islands, such as Maui and Kauai, to the sunny shores of Florida's Gulf Coast, Vrbo provides access to some of the best beachfront properties available. Imagine waking up to the sound of crashing waves, taking a leisurely stroll along pristine sandy beaches, or indulging in thrilling water sports. Vrbo ensures that you can experience the ultimate beach vacation in these remarkable tropical destinations.
III. Unparalleled Natural Beauty
One of the primary reasons to choose the best tropical vacations in the US through Vrbo is the opportunity to immerse yourself in unparalleled natural beauty. Imagine exploring the lush rainforests of Puerto Rico, hiking through the breathtaking trails of Hawaii's volcanic landscapes, or witnessing the stunning sunsets over the Florida Keys. Vrbo offers vacation rentals in close proximity to these natural wonders, allowing you to experience their magnificence and create lasting memories.
IV. Diverse Activities and Attractions
Tropical vacations in the US offer a wide array of activities and attractions for all types of travelers. Whether you're an adventure enthusiast seeking thrilling water sports, a nature lover looking to discover unique flora and fauna, or someone simply seeking relaxation and rejuvenation, these destinations have something for everyone. Vrbo's selection of vacation rentals ensures that you have easy access to these activities and attractions, making your tropical vacation all the more enjoyable and convenient.
V. Privacy and Comfort
When you are on the best tropical vacations, hotels can be a popular choice for accommodation, Vrbo offers an alternative that provides unmatched privacy and comfort during your tropical vacation. By renting an entire vacation home or villa, you can enjoy your own private space with amenities such as a fully equipped kitchen, private swimming pool, and spacious living areas. Vrbo's properties offer a home-away-from-home experience, allowing you to relax and unwind in luxurious comfort, away from the hustle and bustle of crowded resorts.
Conclusion
Embarking on a tropical vacation in the US through Vrbo promises an unforgettable experience filled with natural beauty, exciting activities, and unparalleled relaxation. With its wide range of choices, exquisite beach destinations, stunning natural wonders, diverse activities, and comfortable accommodations, Vrbo ensures that you have access to the best tropical vacations in the US. For more information, visit Vrbo and the official website of Nomadscolumn.
FAQ's