Planning a trip to Seattle and looking for the perfect place to stay? Discover a diverse range of hotels in Seattle on Agoda, catering to every budget and preference. Whether you're seeking luxury resorts or cozy affordable inns, Seattle has an array of accommodations to suit every traveler's needs. 
Get ready to explore the Emerald City while resting in comfort and style at one of the top-rated hotels in Seattle available on Agoda. Read on this blog to explore the best platform to book cheap hotels in Seattle. 
Top Hotels in Seattle you Must Consider Booking for a Comfortable Stay
1. Hyatt Regency Seattle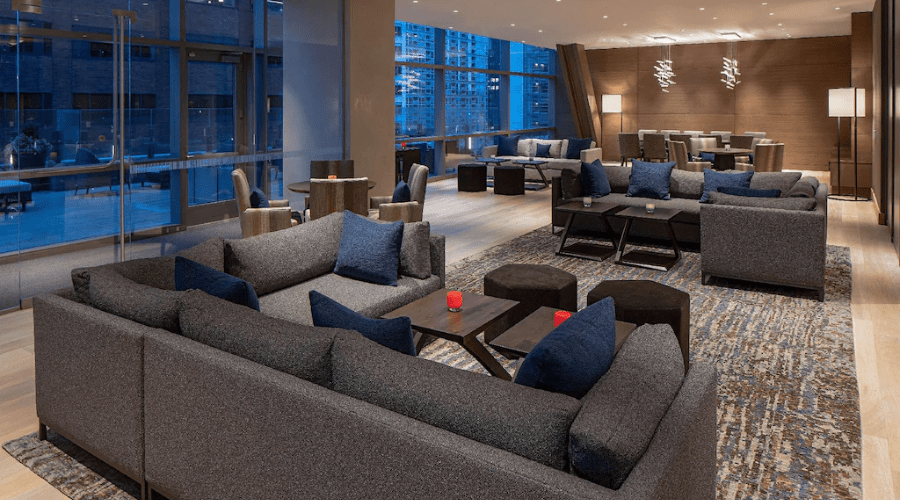 The Hyatt Regency Seattle offers a sophisticated urban retreat in the heart of the city. Boasting modern elegance and contemporary design, this upscale hotel features spacious and stylish rooms with city views. Its prime location in downtown Seattle provides easy access to key attractions like Pike Place Market and the Space Needle. 
The Hyatt Regency guarantees an opulent stay with over 1,200 exquisitely furnished rooms, cutting-edge conference spaces, a fine restaurant featuring Pacific Northwest cuisine, and a welcoming lounge. Visitors can enjoy individualized attention, unwind at the fitness facility, and experience a seamless fusion of urban sophistication and comfort.
---
2. Travelodge by Wyndham Seattle By The Space Needle
The Travelodge by Wyndham Seattle By The Space Needle offers a convenient stay mere steps from iconic attractions. Nestled in the heart of Seattle, this hotel provides easy access to the Space Needle, Seattle Center, and vibrant downtown. The property offers cozy and well-equipped rooms, ensuring a comfortable stay. 
Its proximity to dining options and the city's cultural hotspots make it an ideal base for exploring. With friendly service, a relaxed ambiance, and affordability, the Travelodge provides a practical and accessible accommodation choice for travelers seeking proximity to Seattle's renowned landmarks and attractions.
---
3. Executive Hotel Pacific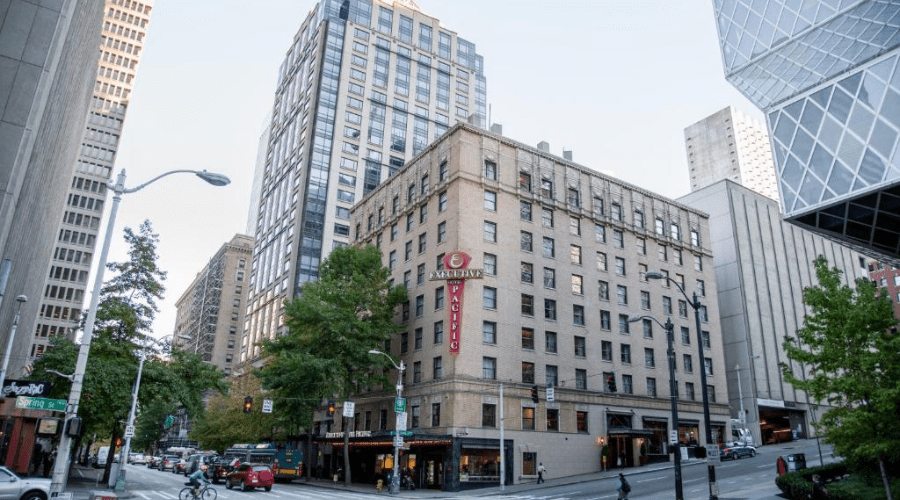 The Executive Hotel Pacific in Seattle stands out for its blend of contemporary elegance and urban convenience. Located in the heart of downtown, it offers easy access to key attractions like Pike Place Market and the bustling shopping districts. The hotel exudes sophistication through its modern decor and amenities. 
With its stylish rooms, upscale dining options, and attentive service, the Executive Hotel Pacific provides a luxurious retreat in the vibrant core of Seattle, catering to both business and leisure travelers seeking a refined stay amidst the city's dynamic energy.
---
What is the Best Platform to Find Affordable and the Best Hotels in Seattle?
Agoda stands out as an eminent online travel agency, offering a plethora of lodging options in Seattle that cater to varying budgets and preferences. Consider these compelling reasons why Agoda remains a go-to platform for discovering the finest and most cost-effective hotels in Seattle:
Expansive Collection
Agoda boasts a vast array of Seattle's hotels, spanning from economical hostels to opulent resorts, ensuring a perfect match for every traveler's needs.
Competitive Pricing
Renowned for its competitive rates, Agoda often presents more favorable prices due to its robust hotel partnerships and adept negotiation of bulk deals.
Intuitive Interface
Agoda's website and app provide an easy-to-use interface, simplifying hotel searches, price comparisons, and review perusal, along with comprehensive hotel details.
Booking Diversity 
With flexible booking options, instant confirmations, and favorable cancellation policies, Agoda instills confidence and flexibility in your hotel reservations.
Responsive Assistance
Agoda offers responsive customer support via live chat, email, and phone, ensuring timely assistance for queries or concerns.
Agoda Points Rewards
Their customer rewards program, Agoda Points, incentivizes bookings by offering points redeemable for discounts and additional benefits.
Price Match Guarantee
Agoda's price match guarantee assures the best rates available, matching lower prices found elsewhere and offering an extra discount.
Refined Search Filters
Agoda allows precise hotel filtering based on pricing, ratings, amenities, and reviews, facilitating tailored searches for optimal choices.
Real-Time Availability
Providing real-time updates on hotel availability ensures swift and efficient bookings without hassle.
Secure Transactions
With secure payment gateways and data encryption, Agoda prioritizes the protection of personal and financial information.
In essence, Agoda's vast offerings, competitive pricing, user-friendly interface, diverse booking options, stellar customer support, loyalty rewards, price match guarantee, refined search filters, real-time availability, and secure transactions solidify its position as the preferred choice for discovering top-notch and affordable hotels in Seattle.
---
Conclusion
From the bustling city center to serene waterfront views, hotels in Seattle on Agoda offer a spectrum of choices. Embrace the Emerald City's charm by choosing from luxury resorts to budget-friendly inns, ensuring a memorable stay that fits your travel plans. 
Find your ideal Seattle accommodation on Agoda and embark on an unforgettable journey in this vibrant city. Book hotels in Seattle with Agoda today and avail special discounts. 
Furthermore, if you want to read more such informative and interesting blogs, follow our website Nomadscolumn. 
FAQs