Boston, Massachusetts, a city rich in history and culture, offers an incredible array of experiences for visitors. There are plenty of activities for everyone to enjoy, from iconic landmarks to thriving neighborhoods. And what better way to savor your stay in this remarkable city than by choosing the perfect hotel in the heart of it? 
There is a diverse array of hotels in Downtown Boston, each offering its unique blend of history, luxury, and modern amenities. From the iconic Liberty Hotel with its stunning views of the Charles River to the contemporary comfort of The Godfrey Hotel Boston, conveniently located near Boston Common, there's a perfect place to stay for every visitor. Courtyard Boston Downtown/North Station provides easy access to TD Garden and other nearby attractions, while Bostonian Boston offers proximity to landmarks like Quincy Market and the New England Aquarium. The Langham, Boston, recently renovated and exuding historic charm, presents gourmet dining and luxurious rooms. Planning to find the best hotel rates is key in this vibrant city steeped in history and culture, where each hotel in downtown Boston serves as an ideal starting point for exploring all that Boston has to offer, whether you're here for business or leisure.
What are the attractions of Downtown Boston?
Downtown Boston is the beating heart of this historic city, making it an ideal choice for tourists and business travelers alike. Here are some compelling reasons to stay in downtown Boston:
1. Proximity to Historic Landmarks
Downtown Boston is home to some of the city's most iconic historical sites, including the Freedom Trail, Faneuil Hall, and the Massachusetts State House. Staying in the heart of the city means you'll be steps away from these must-see attractions.
2. Vibrant Dining Scene
The downtown area boasts an array of restaurants and eateries, from upscale dining to casual street food. Whether you crave seafood, international cuisine, or traditional New England fare, you'll find it here.
3. Cultural and Entertainment Hubs
Boston is renowned for its vibrant arts and culture scene. Downtown is home to theaters, galleries, and music venues that offer a wide range of entertainment options, from Broadway shows to local bands.
4. Access to Public Transportation
Downtown Boston is well-connected with an efficient public transportation system, including the subway (known as the "T") and buses. This makes it simple to travel throughout the city and beyond.
5. Waterfront Views
Some Hotels in Downtown Boston offer stunning views of the harbor, providing a picturesque backdrop for your stay. Waterfront walks and activities are easily accessible from this central location.
What is the best hotel in downtown Boston?
1. The Liberty, a luxury collection hotel, Boston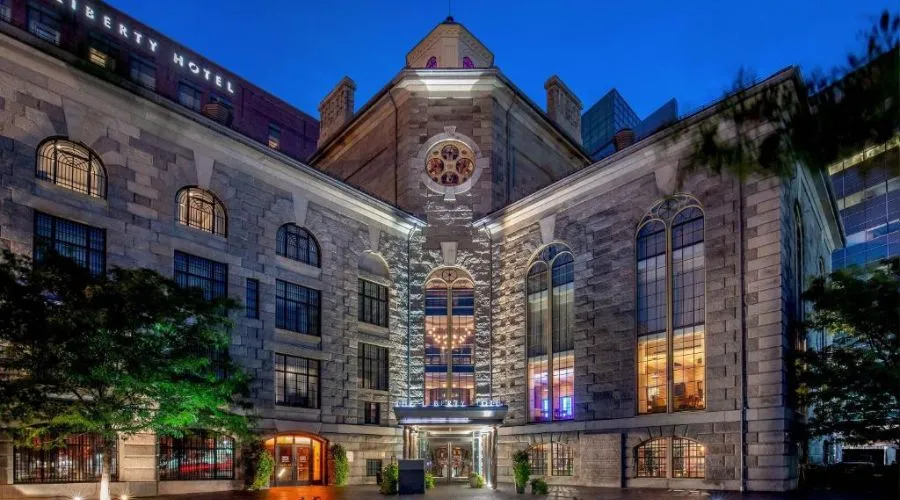 Nestled in downtown Boston, this historic hotel offers enchanting views of the Charles River, opulent guest rooms featuring flat-screen TVs, acclaimed dining spots, and convenient access to major attractions. Initially constructed in 1851, the Liberty Hotel seamlessly blends historic architectural elegance with contemporary conveniences like WiFi and a state-of-the-art fitness center. Guests can enjoy complimentary seasonal bike rentals and invigorating yoga classes. The hotel boasts an array of culinary delights, including the modern American cuisine at Clink, signature cocktails at Alibi, contemporary Italian fare at Scampo, and a vast wine selection at The Liberty Bar. Centrally situated, The Liberty Hotel is near Beacon Hill, the Science Museum, Kendall Square, Faneuil Hall shops, and the historic harbor area.
---
2. The Godfrey Hotel Boston
The Godfrey Hotel Boston offers an array of accommodations, an onsite restaurant, a lounge, and a fitness center for guests' comfort. With a dedicated concierge service, the hotel ensures a seamless experience. Situated just a short 3-minute walk from Boston Common, the hotel provides air-conditioned rooms, some featuring additional seating areas. Each room includes a private bathroom along with complementary bathrobes and complimentary toiletries. The Godfrey Hotel Boston further extends its hospitality with a 24-hour front desk and convenient laundry and dry cleaning services. Its prime location places it 200 meters from the Freedom Trail, 400 meters from the Boston Tea Party Ship & Museum, and 4 km from Logan Airport, making it an ideal choice for exploring the city.
Also Read: Exploring The Charms Of Falmouth Jamaica: A Traveler's Paradise
---
3. The Bostonian Boston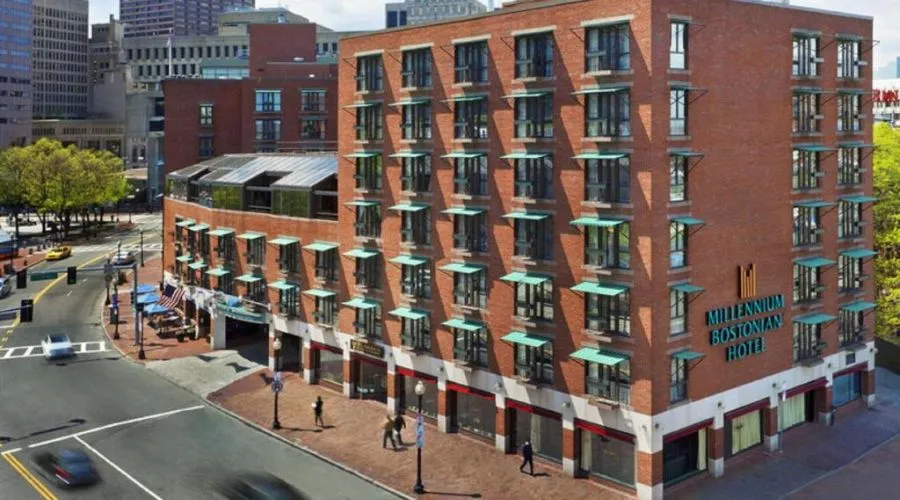 Offering on-site spa facilities and a modern American restaurant, this hotel is located just 900 meters from Boston Common. The Bostonian Boston offers well-equipped rooms with a flat-screen TV, coffee maker, and minibar for guests' convenience. Additionally, a 24-hour fitness center and dedicated concierge services are available to enhance the guest experience. The hotel's bar serves up specialty cocktails and a selection of lighter fare. Ideally situated, The Bostonian Boston is positioned 700 meters from the New England Aquarium and 1.8 km from the Boston National Historical Park, with the Long Wharf (North) ferry terminal a mere 550 meters away.
---
4. Courtyard Boston Downtown/North Station
Courtyard Boston Downtown/North Station in Boston enjoys a fantastic location just a 2-minute walk from Boston North Station and TD Garden, home to the Boston Celtics and Boston Bruins. It's also within walking distance of Old North Church and Quincy Market. The rooms feature a desk, a private bathroom with a bathtub, and flat-screen TVs with Netflix. The hotel offers an American breakfast and a full-service bar. Tourist information is available at the reception, and there are meeting facilities on-site. The Boston Tea Party Boat and Museum are 2 km away, while Faneuil Hall is 1 km from the hotel. Logan Airport is the closest airport, located 3.9 miles away.
---
5. The Langham, Boston
The Langham Resort is a recently renovated 5-star historic hotel in downtown Boston, originally the Federal Reserve Bank, that offers stunning views of Norman B. Leventhal Park. It boasts gourmet restaurants, well-appointed guest rooms, an indoor pool, and a 24-hour fitness center. Rooms feature minibars and 50-inch HD LED TVs with streaming. Nearby attractions include Faneuil Hall Market, New England Aquarium, and The Freedom Trail Foundation, all within 800 meters. The Boston Convention Center is just 1 mile away. Grana, a classic Italian restaurant, and El Fed, a charming cocktail bar, provide excellent dining options. Each room showcases custom furnishings, Italian marble bathrooms, and plush bathrobes and slippers.
---
When to catch the best hotel rates in Downtown Boston
Finding the best Hotels in Downtown Boston at a good rate depends on several factors, including the time of year, special events, and how far in advance you book. 
Off Seasons: Consider visiting during the shoulder seasons of spring (April to June) and fall (September to November) when the weather is pleasant, and Hotels in Downtown Boston rates tend to be more affordable.

Weekdays vs. Weekends: Rates are often lower on weekdays, so if your travel dates are flexible, consider a midweek stay.

Advance Booking: Booking your stay well in advance can secure lower rates. 

Special Packages: Some Hotels in Downtown Boston offer special packages that include perks like breakfast, parking, or attraction tickets. These packages can provide excellent value.

Last-Minute Deals: If you're spontaneous, you might find last-minute discounts, but availability can be limited.

Avoid Major Events: Prices tend to surge during major events, so check the local event calendar when planning your trip.
Conclusion
Booking offers a diverse range of Hotels in Downtown Boston. Whether your preference is for historic charm, modern luxury, or convenient access to attractions, you'll discover a suitable option. These lodgings cater to a variety of preferences and budgets. Planning to secure favorable rates is advisable, as this culturally rich city offers much to explore, regardless of whether your visit is for business or leisure.
FAQs