With its immaculate beaches, verdant scenery, and vibrant culture, Hawaii entices tourists from all over the world. Your choice of lodging is a crucial factor to take into account as you plan your tropical vacation. Hotels in Hawaii are dispersed around the islands, making lodging selection a pleasurable but difficult endeavor. With a diverse range of options, from the bustling shores of Waikiki to the tranquil luxury of Princeville and Lahaina's historical charm, Booking ensures that every traveler can find their ideal Hawaiian escape. By providing valuable insights into factors like location, amenities, and guest reviews, Booking makes it effortless for visitors to make informed choices and embark on a memorable Hawaiian adventure with confidence. 
What are the best areas to stay in Hawaii?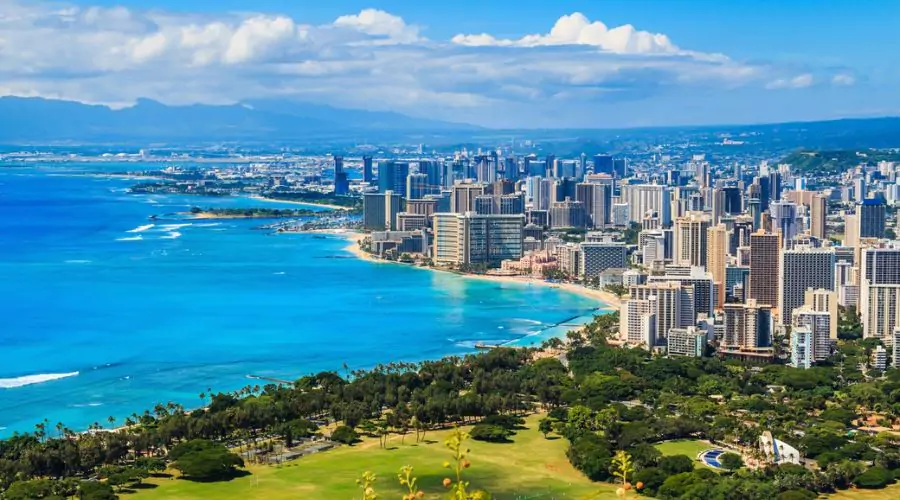 Before delving into specific areas, let's take a moment to appreciate the unique charm of Hawaii's main islands:
1. Oahu – The Heart of Hawaii
The third-largest island in Hawaii, Oahu, combines urban sophistication with scenic beauty. Waikiki Beach, Pearl Harbour, and the city's thriving nightlife are among its most famous attractions.
Best Areas to Stay: 
Waikiki Beach: There are numerous hotels in this busy neighborhood, ranging in price from cheap to deluxe. It's ideal for people looking for a balance between city life and seaside activities. Discover Diamond Head, go to the Honolulu Zoo and experience the exciting nightlife.

Honolulu: Numerous hotels may be found in the capital city, making it convenient for business travelers. Don't forget to see historic sites like Iolani Palace and Pearl Harbour.
2. Maui – The Island of Dreams
Maui, sometimes known as the "Valley Isle," is renowned for its varied scenery, which includes the romantic Road to Hana, the active volcano Haleakala National Park, and the opulent resorts of Wailea.
Best Areas to Stay: 
Wailea: Wailea, renowned for its opulent resorts, is perfect for honeymooners and those looking for an opulent getaway. It provides top-notch golf courses, spas, and stunning beaches.

Lahaina: The rich cultural heritage of Maui is best experienced in this historic village on the island's west coast. Explore the shops and restaurants on Front Street while staying in lovely boutique hotels.
3. Kauai – The Garden Isle
Kauai is known as "The Garden Isle" because of its lush, natural beauty. With the gorgeous Na Pali Coast and Waimea Canyon, it's ideal for those who love the outdoors.
Best Areas to Stay: 
Princeville: Princeville, which is located on the north shore, is well known for its opulent resorts and breathtaking scenery. Golfers and those seeking peace will find it to be a delight.

Poipu: Poipu, which is on the sunny south shore, has a range of lodging options, including resorts and rental homes. It is renowned for its welcoming atmosphere for families and outstanding snorkeling locations.
4. Hawaii Island (Big Island) – A World of Contrasts
The largest and most diversified of the Hawaiian islands is the Big Island, as its name suggests. It has sunny beaches, lush rainforests, and active volcanoes.
Best Areas to Stay: 
Kona: The Big Island's western coast is home to Kailua-Kona, also referred to as Kona. It is well-known for its coffee plantations, water sports, and vibrant food scene.

Hilo: Hilo is a lovely town with a laid-back atmosphere on the eastern side. It is close to magnificent rainforests and Hawaii Volcanoes National Park.
How do I choose hotels in Hawaii?
Choosing the right hotels in Hawaii can greatly enhance your vacation experience. Here are some tips:
Determine Your Budget: Decide on your budget range before you start searching. Hawaii offers a wide range of accommodations, so there's something for every budget.

Location: Consider what activities and attractions are on your must-see list. Choose a hotel that's convenient for your planned activities.

Amenities and Services: Think about the amenities that matter most to you, whether it's a pool, spa, or oceanfront dining.

Reviews and Ratings: Read guest reviews to get insights into the hotel's quality and service. Booking provides detailed reviews from real travelers.
Best Hotels in Hawaii available on Booking:
1. Halepuna Waikiki by Halekulani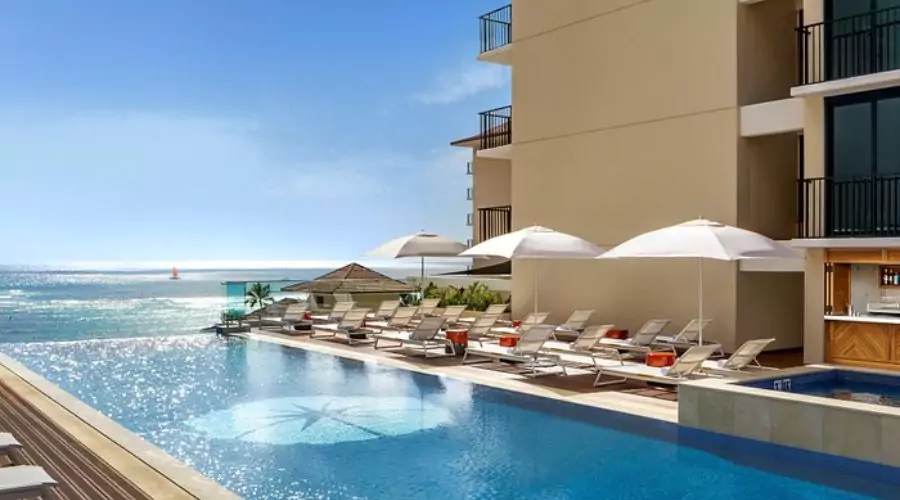 Waikiki Beach is only a 2-minute stroll from Halepuna Waikiki, an opulent boutique hotel in the center of Waikiki. The interior, which Champalimaud designed, features Hawaiian artwork from The Honolulu Museum of Art. Modern comforts including free WiFi, 50-inch flat-screen TVs, TOTO washlets, and deep soaking tubs are available in the guest rooms. The infinity pool, hot tub, pool bar, and private garden with a reflexology path are features of the 8th-floor Urban Oasis. Visitors can enjoy SpaHalekulani, work out in the fitness center, and eat at Halekulani Bakery & Restaurant. Shopping centers are close by, and local attractions are accessible for free.
---
2. The Ritz-Carlton Residences, Waikiki Beach Hotel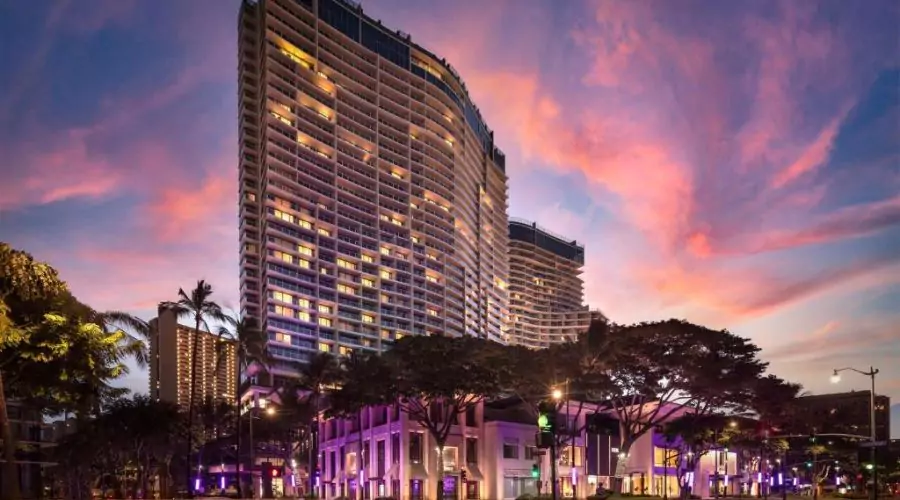 The first Ritz-Carlton on Oahu offers 552 rooms and suites with ocean views, gourmet kitchens, kitchenettes, and top-brand washers and dryers, making it the ultimate luxury resort in Waikiki. It has the most luxurious hotel suites on the island, 246 in total. The Ritz-Carlton Spa features treatments with an island theme, and there are two infinity pools with private cabanas, a fitness center, a yoga room, and a movie theatre. Enjoy a unique gastronomic adventure with dining options that include everything from sophisticated French cuisine to legendary Japanese sushi. There are more than 6,000 square feet of indoor function space available for meetings and events. This is a genuine Hawaiian paradise that is close to the Waikiki International Marketplace Shopping Centre and Waikiki Beach Area.
Also Read: The Ultimate Guide To Resorts In Orlando
---
3. Kona Tiki Hotel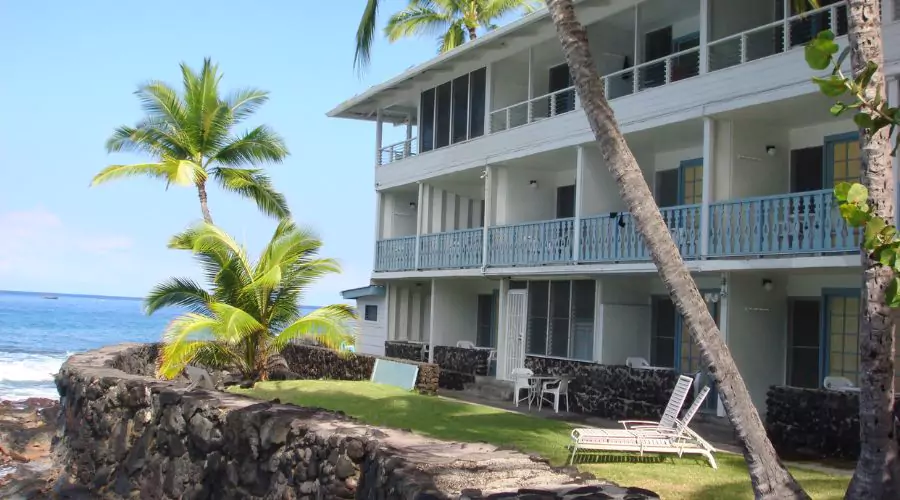 The Kona Tiki Hotel in Kailua-Kona is a tranquil retreat with an outdoor pool, free parking, and lovely gardens, about 400 meters from Honl's Beach. Rooms in this non-smoking establishment come with private bathrooms, thoughtful amenities, and balconies with mesmerizing sea views. On the sun deck, visitors can unwind or engage in neighboring pursuits like snorkeling, fishing, and diving. The hotel's ideal location also makes it simple to reach other sites including Kealakekua Bay State Historical Park and Kealakekua Bay, both of which are located about 25 km away. The airport that is closest to the hotel is Ellison Onizuka Kona International at Kehole Airport, which is only 14 km away.
---
4. Koloa Landing Resort at Po'ipu, Autograph Collection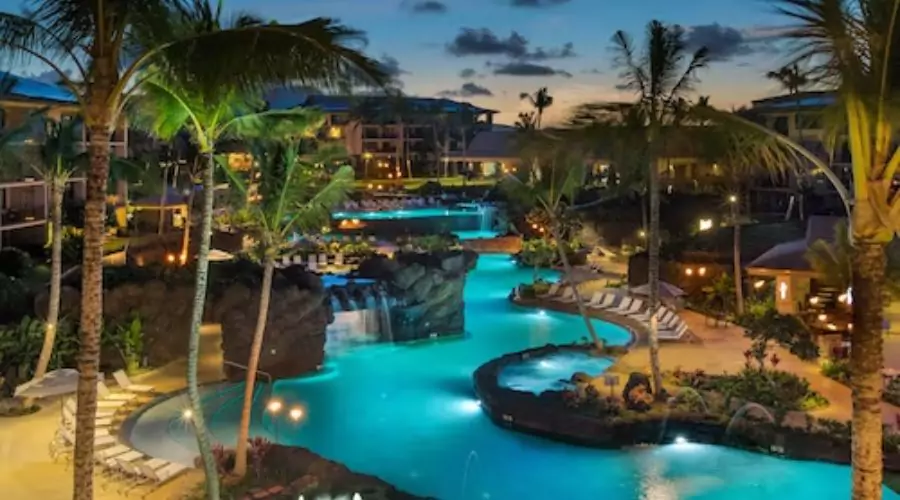 Koloa Landing At Poipu Beach, a luxurious refuge with two resort-style pools and a cutting-edge fitness center is tucked away on the southernmost point of Kauai Island. Flat-screen LCD TVs, fully functional kitchens, floor-to-ceiling windows, and roomy terraces with ocean views are all features of the suites and villas. Free WiFi, iPod docking stations, in-room washers and dryers, and private bathrooms are available to guests. A daily continental breakfast is provided, and the hotel's lovely grounds include ponds and walks that are lit by torches. There are concierge services, valet parking, and spa wellness packages available. Port Allen Airport is approximately 21 miles from the property, and it's a comfortable 10-minute stroll to the stores and eateries of the Poipu Shopping Village.
---
5. Wavecrest A212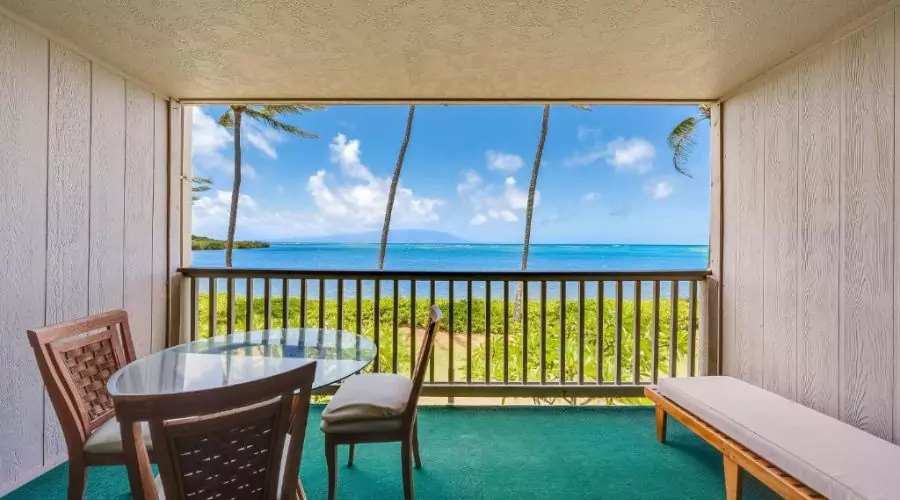 In Kaunakakai, Wavecrest A212 provides beachside lodging with useful features like free WiFi throughout the place and an ATM. The hotel's rooms are equipped with a desk, a TV, a private bathroom, soft bed linens, towels, and a balcony with lovely sea views. The fridge is available for use by visitors during their stay. The Wavecrest A212 is perfectly positioned for bike excursions in the neighborhood for people looking for outdoor sports. Molokai Airport, which is 32 kilometers from the lodging, is the closest.
---
How Can I Make a Reservation at Hotels in Hawaii?
Booking hotels in Hawaii is a straightforward process:

Visit Booking's Hawaii page to start your search.

Enter your travel dates, the number of guests, and any specific preferences.

Browse the available options, filter by your criteria, and read guest reviews.

Once you've chosen your ideal hotel, follow the booking instructions, and complete your reservation.
When Is Hawaii's Best Time of Year to Visit?
Hawaii's pleasant climate and diverse landscapes make it a year-round destination. However, some factors to consider include:
Weather: The dry season (April to October) is ideal for beach activities, while the wetter season (November to March) is excellent for lush landscapes and whale watching.

Crowds: High tourist seasons coincide with school holidays and major events. Consider visiting during shoulder seasons for fewer crowds and potentially lower prices.

Special Events: Check for cultural festivals or events that align with your interests.
Conclusion
Hawaii is a popular tourist destination because of its magnificent scenery and distinctive culture along with amazing hotels in Hawaii. Booking offers a thorough guide to assist you in making the best hotel decision because it is essential to guarantee a memorable stay. Hawaii offers a wide variety of lodging options to meet any traveler's interests and budget, whether you prefer the busy shores of Waikiki, the peaceful elegance of Princeville, or the ancient beauty of Lahaina. You can set out on your Hawaiian journey with confidence knowing that you've chosen the right hotel to make your stay genuinely unforgettable by taking into account elements like location, amenities, and customer reviews. Aloha!
For more information, visit NomadsColumn.
FAQs