Bahrain is one of those places where you can find the hidden gems of the Middle East. There are many fascinating countries in the Middle East and Bahrain is one of them. The country has its own way of inspiring people. The visitors are said to have left the place with memorable experiences, due to the people's hospitality, unique food, majestic mosques to visit, and deep cultural history. For those who are visiting the country for the first time, there are many reasons why one should visit Bahrain.
Moreover, the individuals who are also visiting the country won't have to worry about where to stay. Agoda has listed some of the best hotels in Bahrain. These hotels in Bahrain are luxurious and all under budget hotels. Fully equipped with the facilities you need to make your stay convenient and comfy. 
Top reasons why you should visit Bahrain 
Warm Hospitality: With a lot of negative views about the Middle East people tend to judge the book by its cover. But visiting Bahrain will change your mind. Local people are known for their warm hospitality. They are helpful and engaging with visitors. Even when you look out for help they are ever ready to assist you. Individuals are likely to experience a hospitable atmosphere. 

Deep History and Culture: Apart from many other things one thing is for sure that will leave you amazed; its rich history and culture. One of the sites 'Bahrain Fort' is also on the list of UNESCO World Heritage Sites! Which tells the rich cultural history that dates back to ancient Dilmum times. Something you cannot explore anywhere else. Bahrain National Museum is also another exciting place to learn deep cultural history. 

First and Cultural experiences: If you are new to the Middle East, Beharian is the finest place where you can get first-hand experience of Arabic culture. This is because people are warm and welcoming engaging with the local people is always fun. They open doors for you to learn about their culture and also get invited to their homes. Make sure to try out local markets wherever you are. They are also the best way to experience the Arab culture. Especially exploring food, attire, and spices.  

Architectural Buildings: In many of the major cities in Bahrain individuals can find a lot of ancient buildings and mosques with magnificent architectural buildings. They are some inspiring sights to see for sure. For instance, the Bahrain World Trade Center or the Bahrain Financial Harbour. 

Beaches: Since Bahrain is located in the Persian Gulf it has some dazzling beaches to visit. They are perfect to get to spend your quiet time on the beaches. Some of the beaches like Amwaj Island also have world-class resorts and rollicking water activities to do. 
Top Luxurious Hotels in Bahrain 
1. Lagoona Beach Luxury Resort and Spa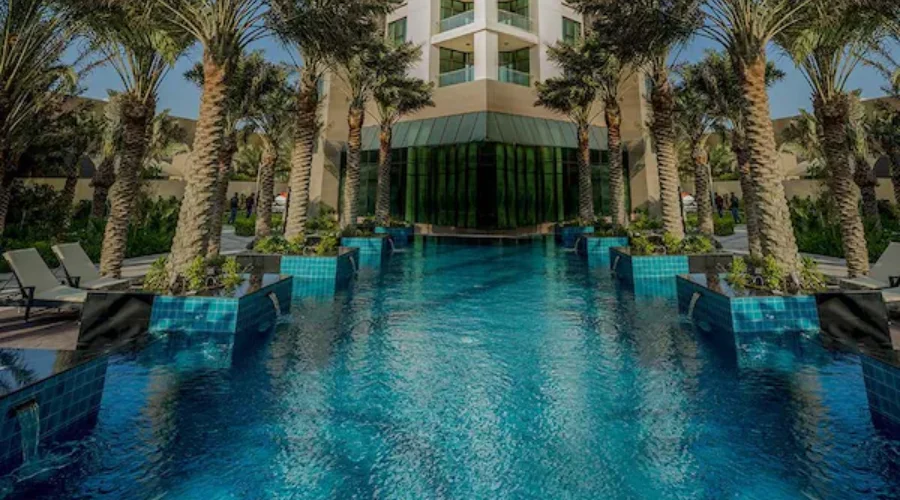 This hotel is definitely one of the best hotels in Bahrain. It has outstanding rates for comfortable stay and exciting outdoor activities for the visitors. The hotel is located in the Budaiya part of Manaa which takes you near many attraction sites. A soothing indoor swimming pool on the top of the hotel where you can get a timeless view of the area. Plus, the Bahrain National Museum is close by! This 5-star rated hotel will surely make your stay memorable. 
Facilities included are: 
Airport Transfer 

Valet Parking 

Shuttle Service 

Free Wi-Fi 

Swimming Pool 

Spa 

Front Desk 

Check-in/ou

Private Beach 
---
2. Ramada Hotel & Suites
This luxurious property is located on Amwaj Island.  Perfect place for all those travelers who are looking forward to a luxurious stay in the city. The good thing about the property is that it is close to the ocean, and the hotel services are absolutely fantastic. The property will not only give you access to the beach but to many attraction sites in the city. Excellent dining options are available near the hotel if you want to try local cuisines beyond the hotel food. 
Fasciitis included are: 
Airport Transfer 

Fitness Center 

Spa 

Valet Parking 

Shuttle Service 

Front Desk 

Currency Exchange 

Free Wi-Fi 
---
3. S Hotel Bahrain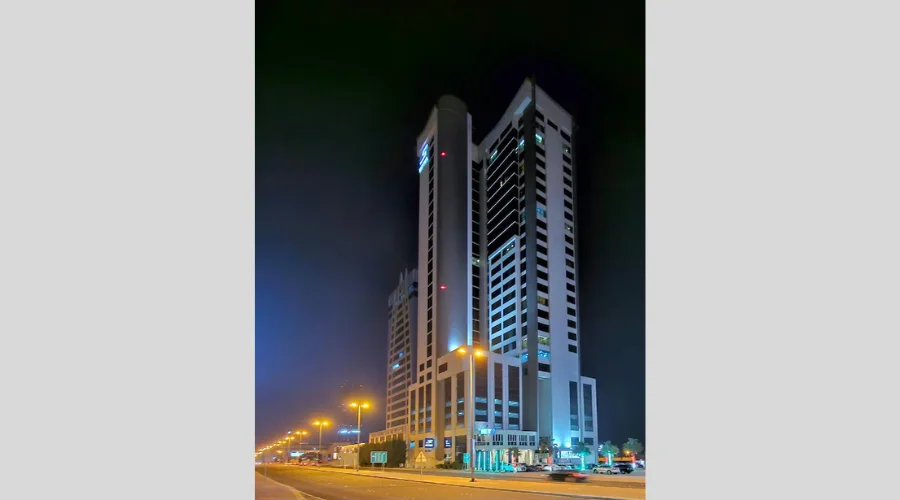 The property is located at Block 428 Near City Centre. Exactly at the place where you can get the most out of the city. There are full fun activities to do around the hotel. This is definitely one of the best hotels in Bahrain for those who are looking to stay near the city center. The hotel rooms are fully furnished. They come with the luxurious beds and amenities you need to make your stay convenient. Make sure to check this out if you don't want to miss a perfect stay on your vacation trips. 
Facilities included are: 
Front Desk 24-hour 

Car Park 

Swimming Pool 

Fitness Centre 

Shuttle Service 

Airport Transfer 

Free Wi-Fi 
---
4. The Art Hotel & Resort 
This is one of the top hotels in Bahrain. The hotel is highly popular because of its location, luxurious facilities, excellent hotel services, and surrounding water areas. There are countless options where the visitors can do a lot of outdoor activities in the area. The stunning view from the hotel balcony will leave you speechless. The property is rated 5-star. Staying at this hotel will not leave the visitors feeling disappointed. 
Facilities included are: 
Excellent Room Comfort 

Front Desk 

Hot Tub 

Valet Parking 

Kids Club 

Free Wi-Fi 

Luggage Storage 

Airport Transfer 
Also read: Discover the Finest Hotels in Pattaya for a Wonderful Stay
---
Conclusion 
These are some popular Hotels in Bahrain and there are more cheap hotels in Bahrain on Agoda. Depending on your choice and budget capacity you can find good hotels that facilitate your expectation. Moreover, on Agoda, you can still make easy bookings even at the last hour or the last minute. With free cancellation, your hotel bookings are now that convenient. For more information visit Nomadscolumn. 
FAQs