New Smyrna Beach is a charming coastal town in Florida known for its beautiful beaches, vibrant community, and a wide array of outdoor activities. When planning a visit to this stunning destination, finding the right accommodation is crucial. Vrbo, a popular online marketplace for vacation rentals, offers a plethora of options for New Smyrna Beach rentals.
Vrbo (Vacation Rentals by Owner) is a website that connects vacation rental owners with travellers looking for lodging.  It provides a user-friendly interface that allows users to search for rentals based on their specific needs and preferences. 
To find New Smyrna Beach rentals on Vrbo, simply enter "new smyrna beach vacation rentals" in the search bar on the homepage. You will be presented with a variety of options, including beachfront condos, cosy cottages, and spacious family homes.
Benefits of Renting through Vrbo
Renting through Vrbo offers several benefits for vacationers. Firstly, it provides a wide range of options to suit different budgets and group sizes. Whether you are travelling solo, as a couple, or with a large family, Vrbo has rentals that can accommodate your needs. You can filter the search results based on the number of bedrooms, amenities, and price range, ensuring that you find the perfect rental that meets your requirements.
Secondly, renting through Vrbo allows you to have a unique and personalized experience. Unlike staying at a hotel, vacation rentals on Vrbo provide a home-like atmosphere, with fully equipped kitchens, living spaces, and private outdoor areas. This gives you the flexibility to cook your meals, relax in a comfortable setting, and enjoy the privacy and freedom that a vacation rental offers.
---
Here is a list of the best 5 New Smyrna Beach Rentals to stay
1. Dolphin Cove Cottage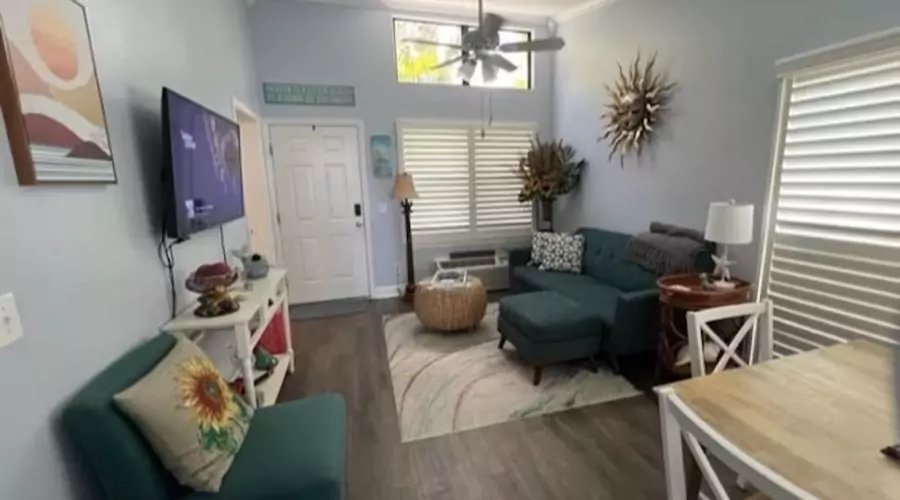 Dolphin Cove Cottage is a charming and pet-friendly vacation rental located in the beautiful coastal town of New Smyrna Beach. Situated just steps away from the pristine shores and turquoise waters, this cottage offers a perfect getaway for beach lovers and their furry friends.
As one of the sought-after New Smyrna Beach rentals, Dolphin Cove Cottage provides a cosy and inviting atmosphere for guests. The cottage features two bedrooms and two bathrooms, accommodating families and small groups comfortably. With its tasteful beach-inspired decor and well-appointed furnishings, the cottage offers a relaxing and homey ambience for guests to unwind and enjoy their vacation.
The prime location of Dolphin Cove Cottage is one of its highlights. Being just a stone's throw away from the beach, guests have easy access to the sun, sand, and surf. They can spend their days lounging on the beach, swimming in the ocean, or taking leisurely walks along the shore.
---
2. Island Beach Cottage
Island Beach Cottage! 150 Steps To The Beach is a charming vacation rental located in the beautiful coastal town of New Smyrna Beach. With its prime location just steps away from the beach, this cottage offers an unforgettable beachside getaway.
As one of the sought-after New Smyrna Beach rentals, Island Beach Cottage provides guests with a cosy and relaxing retreat. The cottage features comfortable accommodations and a delightful beach-inspired decor, creating a serene and welcoming atmosphere. With its close proximity to the beach, guests can easily enjoy leisurely walks along the shoreline, soak up the sun, or indulge in various water activities.
---
3. Canal Street Alchemy II
Canal Street Alchemy II is a fantastic vacation rental property located in the beautiful coastal city of New Smyrna Beach. If you're in search of New Smyrna Beach rentals that offer a perfect blend of comfort, convenience, and a prime location, then look no further.
This exquisite property on Canal Street is a top choice for those seeking a memorable beach vacation. The vacation rental offers a range of well-appointed accommodations to suit different group sizes and preferences. 
From cosy studios to spacious multi-bedroom units, Canal Street Alchemy II has something for everyone. Each unit is thoughtfully designed and furnished to provide a relaxing and inviting atmosphere, ensuring that guests feel right at home during their stay.
---
4. New Smyrna Beach Cottage 
New Smyrna Beach Cottage is a charming vacation rental located just one mile away from the vibrant downtown area of New Smyrna Beach. Offering a comfortable and cosy retreat, this cottage is an excellent choice for visitors looking for a memorable beach getaway in Florida.
As one of the premier New Smyrna Beach rentals, this cottage provides all the amenities and comforts needed for a relaxing vacation. The interior of the cottage is tastefully decorated, creating a welcoming and beach-inspired atmosphere. 
The living spaces are spacious and well-appointed, featuring comfortable furnishings and modern amenities. The cottage includes multiple bedrooms, making it suitable for families or groups of friends travelling together.
---
5. Kingfisher Cottage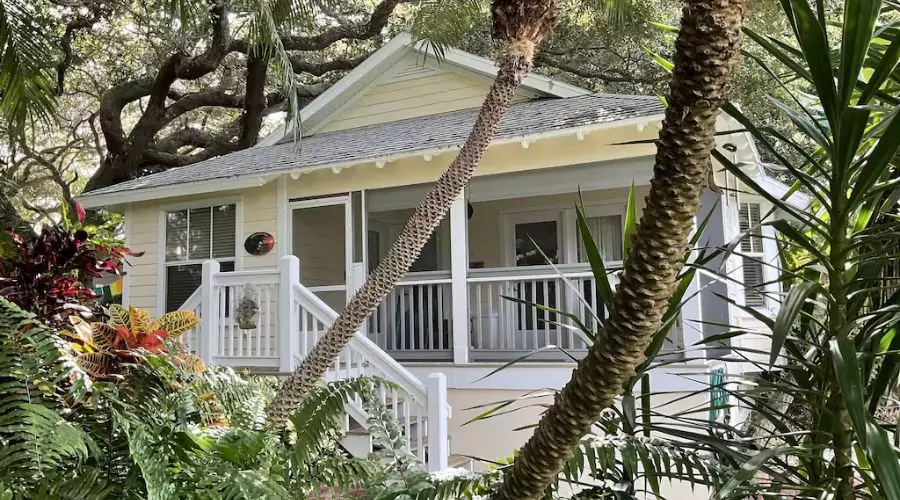 Kingfisher Cottage is a charming vacation rental nestled amidst a lush tropical landscape, conveniently located on the canal and just two blocks away from the mesmerizing ocean in New Smyrna Beach. This delightful cottage offers a perfect blend of tranquillity, coastal beauty, and convenient access to all the attractions that this vibrant beach town has to offer.
As one of the top New Smyrna Beach rentals, Kingfisher Cottage is a sought-after choice for those seeking a relaxing and memorable vacation. Surrounded by swaying palm trees and vibrant flora, the cottage creates a serene atmosphere where guests can unwind and enjoy the tropical ambience. The proximity to the canal provides a unique opportunity for guests to indulge in activities such as fishing, boating, or simply admiring the picturesque views.
---
Conclusion
Vrbo is the go-to platform for finding the perfect New Smyrna Beach rentals. With its extensive selection, user-friendly interface, and personalized options, Vrbo makes it easy to find accommodations that suit your preferences and budget. Whether you're looking for a beachfront condo, a cosy cottage, or a spacious beach house, Vrbo has it all. So, start planning your next vacation to New Smyrna Beach and book your ideal rental through Vrbo for a memorable and enjoyable experience. For more information, visit Nomads Coloumn.
FAQs