Las Vegas is one of the most popular cities to visit in Nevada. The vibrant city attracts many visitors every year. Especially during the festive season, the city is likely to be crowded. If you are a frequent flyer you definitely need to look for cheap flights to Las Vegas. For those individuals who are planning a holiday trip to the city, worry less about where to find affordable flights to Las Vegas because you have Booking.com, an excellent online booking platform for finding the best airlines. 
If you are planning to visit the city for the first time, we have some amazing places to suggest. These places are going to elevate your holiday experience in the city.
1. Top places to visit in Las Vegas 
1. High Roller Ferris Wheel in Las Vegas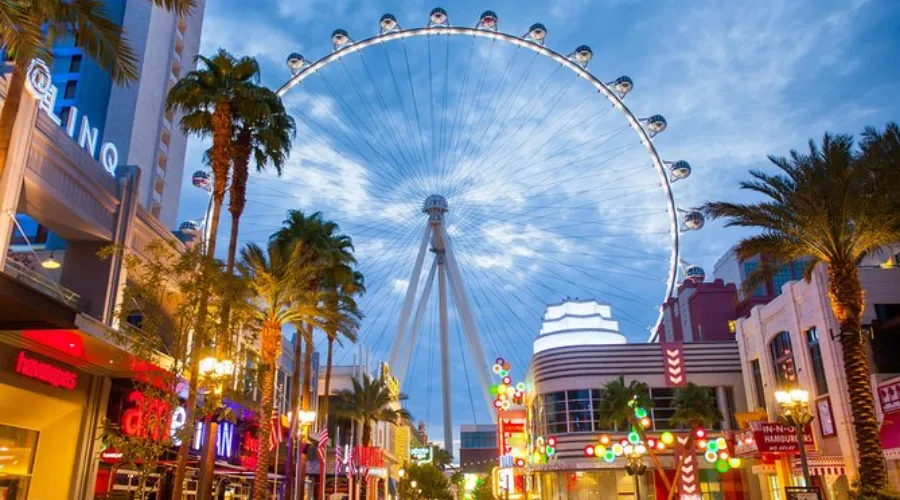 This place is absolutely majestic to get around for a serene evening. This Ferris Wheel is considered to be an iconic stand of the city. You can get a full panoramic view of the city from the top of the Ferris wheel. This is a view that will take your breath away! This is also one of the best and most visited destinations in the city by the locals and tourists. 
2. Paris Las Vegas 
Paris Las Vegas is an opportunity for visitors to explore the fascinating view of the Eiffel Tower. It is located outside the resort which makes the most of the beautiful view of the city. The tower is quite similar to the Eiffel Tower in Paris, France, but this one in Las Vegas has its own vibe. If you are with your partner, try out an evening romantic dinner at the restaurant near the tower. After the dinner take an adventure to the forty-sixth floor where you can get a stunning view. 
3. Red Rock Canyon National Conservation Area 
A bustling city life may not always get you the inspiring vibe you need. Nature has its way of getting into our hearts and the Red Rock Canyon is the living proof. Visiting the place is worthwhile for getting far away from the city lights, and the commercial places. The breathtaking view of the place will leave you rejuvenated. The Red Rock Canyon offers a stunning landscape. The lovely combination of red rocks, mountainous height, and tranquil atmosphere (Mojave Desert) is just worth every penny. 
4. The Adventuredome Indoor Theme Park 
This amusement park is considered the best in the city. It's a perfect place for families with kids. You can enjoy endless rollicking fun by taking rides at the park. The indoor theme is fully inspiring. The food and ice cream vendors are something to experience. If you are visiting with family, this is surely the best place to be in the city. 
5. Visit museums
When considering the places to explore in the city, think about museums! Las Vegas has many exciting museums to explore. Each museum has its own inspiring exhibition. The theme, the art galleries, the indoor exhibition, and more, all combined make a unique adventure. 
Apart from these top five places, there are more places that you can explore in the city. Including outdoor activities such as water sports and picnicking. Make sure to try out cafes and world-class restaurants for a delightful dining experience. Nevertheless, what is more important is to get the top airlines at affordable prices. Here are some airlines that are worth your penny. 
2. Best airlines with affordable flights to Las Vegas 
1. Singapore Airlines: The airline offers multiple flights to Las Vegas throughout the year. If you are travelling from Singapore, consider booking the ticket in advance; it will get you cheaper prices. The onboard services are excellent. The food on the plane is also delightful and it has excellent business-class services.  
2. American Airlines: American Airlines operates nearly 6,800 plus flights to more than 330 destinations. These destinations cover about 48 countries. If you are travelling to multiple countries apart from Las Vegas consider booking American Airlines on Booking.com. Your experience is definitely going to be memorable. 
3. Emirates: It's one of the best airlines for flights to Las Vegas. The airline has amazing onboard services, excellent food and multiple-seat options. The airline is also known for having extensive international routes to many countries around the world. If you are booking flights to Las Vegas from any city in the UAE make sure to look out for Emirates. 
4. Qatar Airways: Qatar Airways is also a budget-friendly airline. If you are departing from Doha or neighbouring countries such as UAE, look out for comparative ticket pricing. The airline has good onboard services. Frequent flights to major cities in the USA and Europe. 
5. Japan Airlines: The airline is renowned for having the world's best economy class according to Skytrax World Airline Awards. Thankfully it has multiple flights to Las Vegas operating throughout the year. You can expect excellent onboard services for sure. Cheap tickets if you are a prime member of Booking.com. For affordable and comfortable flights to Las Vegas from major cities in Japan, Japan Airlines is worthwhile. 
ALSO READ : Best Hotels In Las Vegas: A Guide To Luxury And Entertainment
---
Conclusion 
If you are looking for flights to Las Vegas, you can get affordable options on Booking.com. You can also have many interchanging flight options like flights from Houston to Las Vegas and frequent flights from Chicago to Las Vegas. Irrespective of where you are departing from, Booking.com offers multiple budget-friendly airlines. Apart from flights you can also find the best hotels in Las Vegas with Booking.com. 
For more information, visit NomadsColumn. 
FAQs