Kauai, known as the "Garden Isle," is a tropical paradise in Hawaii that boasts breathtaking natural beauty and a tranquil atmosphere. Regarding the best resorts in Kauai, there are several exceptional options to choose from. One standout resort is the St. Regis Princeville Resort on the island's North Shore. It offers luxurious accommodations with stunning views of Hanalei Bay and the lush mountains.
The resort features world-class amenities, including a championship golf course, a lavish spa, and multiple dining options. Another highly regarded resort is the Grand Hyatt Kauai Resort and Spa on the sunny South Shore. This sprawling property offers a wide range of activities, from snorkeling in the clear waters of Poipu Beach to exploring the resort's extensive gardens and waterfalls. The Grand Hyatt provides a true Hawaiian oasis with its exquisite architecture and impeccable service.
For those seeking a more intimate and secluded experience, the Koa Kea Hotel & Resort in Poipu is an excellent choice. This boutique hotel offers luxurious rooms, a serene pool area, and direct access to a pristine sandy beach. The attentive staff and attention to detail make for a truly unforgettable stay. No matter which resorts you choose in Kauai, you can expect unparalleled beauty, warm hospitality, and a rejuvenating escape in one of the most stunning destinations in the world. Moreover, you can also check the official website of VRBo for more such best resorts in Kauai.
List of some of the best resorts in Kauai
These are some of the best resorts in Kauai where you can plan to stay. However, you can also check the best beach resorts in Kauai, the best resorts in Kauai for couples, best honeymoon resorts in Kauai. Below are some of the best resorts in Kauai:
1. Kauai Beach Resort
Kauai Beach Resort is a highly regarded destination nestled along the eastern coastline of Kauai, Hawaii. This stunning resort offers a blend of natural beauty and modern comforts. With its prime beachfront location, guests can indulge in breathtaking views of the Pacific Ocean and enjoy direct access to the pristine sandy beach. The resort features stylish and spacious accommodations, multiple swimming pools, a fitness center, and a selection of dining options. Whether you're seeking relaxation or adventure, Kauai Beach Resort provides a perfect base for exploring the island's wonders, from lush rainforests to cascading waterfalls.
---
2. Ocean Front Beautiful Waipouli Beach Resort Condo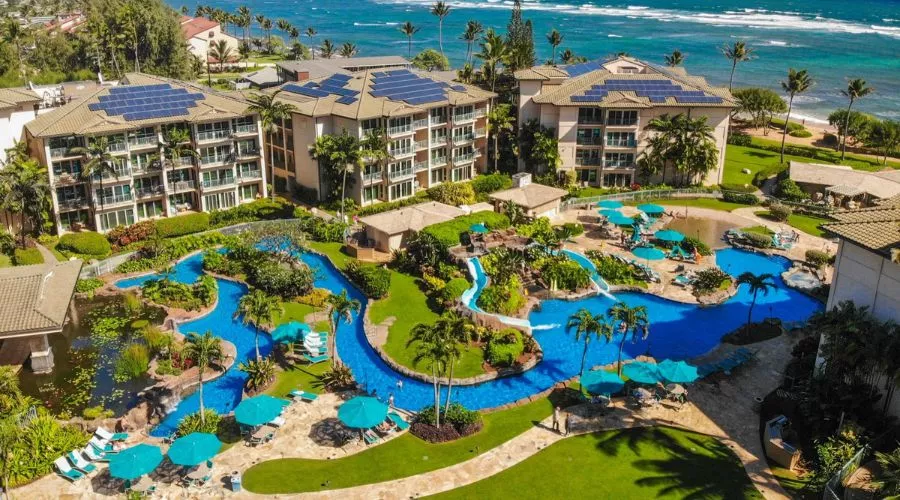 The Ocean Front Beautiful Waipouli Beach Resort Condo is a gem located on the scenic island of Kauai, Hawaii. Situated right on the beachfront, this condo offers mesmerizing ocean views and provides direct access to the sandy shores. With its tastefully appointed interiors and modern amenities, the condo promises a comfortable and luxurious stay. Guests can enjoy the resort's impressive swimming pool, soothing hot tubs, and well-equipped fitness center. Additionally, the surrounding area offers many outdoor activities, such as snorkeling, hiking, and exploring nearby attractions. The Ocean Front Beautiful Waipouli Beach Resort Condo is an excellent choice for a memorable and idyllic beachfront getaway.
---
3. MODERN beachy suite, WALKOUT from PRIVATE LANAI
The MODERN beachy suite offers a contemporary and stylish retreat for those seeking a beachfront escape. With its sleek design and beach-inspired decor, this suite embodies a modern beachy vibe. The suite's highlight is its private lanai, allowing guests to walk out directly from their accommodations to enjoy stunning views and immediate access to the beach. Whether it's sipping a morning coffee or watching the sunset, the lanai provides an intimate and relaxing space to soak in the natural beauty of the surroundings. This suite is perfect for those looking for a chic and convenient beachfront getaway.
---
4. Kaiholo 4-Bdrm Superior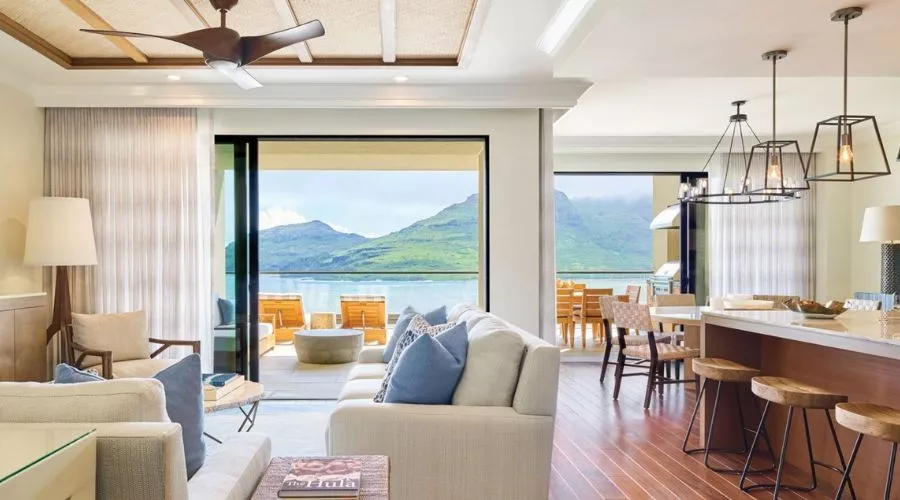 The Kaiholo 4-Bdrm Superior is an exceptional accommodation option that promises a memorable stay on the island of Kauai. This spacious four-bedroom retreat offers superior comfort and luxury for guests. The stylish design and modern furnishings create an inviting atmosphere, while the ample living space provides a perfect setting for relaxation and socializing. With top-notch amenities and thoughtful touches, such as a fully equipped kitchen and a private lanai, the Kaiholo 4-Bdrm Superior ensures a convenient and enjoyable stay. Whether it's a family vacation or a getaway with friends, this exceptional accommodation choice offers a remarkable experience in the beautiful setting of Kauai.
---
5. Hanalei Bay Resort 9305
Hanalei Bay Resort 9305 is a highly sought-after accommodation in the stunning Hanalei Bay on the North Shore of Kauai, Hawaii. This exceptional resort offers a luxurious and comfortable stay with its well-appointed features. The suite boasts breathtaking views of the bay, and guests can savour these vistas from their private lanai. With spacious living areas, modern furnishings, and a fully equipped kitchen, guests have all they need for a relaxing and convenient stay. The resort's amenities include a lagoon-style swimming pool, tennis courts, and access to the pristine beach. Hanalei Bay Resort 9305 offers an unforgettable experience in one of Kauai's most picturesque locations.
---
Conclusion
In conclusion, the best resorts in Kauai offer a plethora of incredible resorts that showcase the island's natural beauty and provide unforgettable experiences. From the luxurious St. Regis Princeville Resort with its breathtaking views of Hanalei Bay to the Grand Hyatt Kauai Resort and Spa, which offers a range of activities and amenities, and the intimate and secluded Koa Kea Hotel & Resort, there is a resort for every traveller's preference.
Whether relaxing on the sandy beaches, indulging in world-class dining, or immersing oneself in the island's lush landscapes, these resorts offer the perfect blend of luxury, comfort, and the authentic Hawaiian experience. The best resorts in Kauai truly epitomise the essence of paradise and create lifelong memories for their guests. Moreover, you can also check VRBO and the website of Nomads Column for more such best resorts in Kauai.
FAQ's