Get ready to dive into the tropical paradise of Thailand, where stunning beaches, peaceful temples, and lively culture await you. From the electrifying vibes of Bangkok to the ancient secrets of Ayutthaya, Thailand has it all. But with a whirlwind of options, how do you even begin? That's where this blog steps in! We've sorted out the 7 absolute best places to visit in Thailand, setting you up for a vacation of a lifetime. Not only will we dish out the juicy deets about these spots, but we'll also spill the beans on the most epic things to do and toss in some unplanned adventures for a twist of fun. Let's dive right into these best places to visit in Thailand and spice up your Thai getaway!
1. Bangkok
Welcome to the heart and soul and one of the best places to visit in Thailand—Bangkok! With a population of over 10 million, this buzzing capital is a cultural playground bursting with flavours, sights, and energy. Here's where the action is:
Grand Palace: Imagine a blend of temples, lush gardens, and grand halls that ooze opulence. This place is the royal digs, and it's no wonder why tourists flock here.
Wat Pho: Brace yourself for the massive reclining Buddha statue at Wat Pho. It's like a 150-foot-long hug from Buddha himself!
Wat Arun: Get ready to be bedazzled by Wat Arun's tower of colours, especially when the sun does its magical sunset dance.
Detour: If you're up for some scrumptious Chinese bites and cool trinkets, dive into the lively Chinatown scene. Feeling wild? Kao San Road is calling all party animals with its quirky shops and buzzing nightlife.
2. Chiang Mai
Chiang Mai, the second largest city in Thailand, is all about adventure up in the northern part of the country. It used to be a royal capital, and now it's famous for its temples, hill tribes, and chill vibes. But guess what? That's not all! Chiang Mai is like a launchpad for discovering cool places around and national parks that are off-the-charts awesome, making it one of the best places to visit in Thailand.
Here are some of the cool activities to try in Chiang Mai:
Visit the Old City: Picture this – a city centre that's super historic, surrounded by a moat and big walls. Yep, that's the Old City of Chiang Mai. And guess what's inside? There are lots of temples, museums, and stuff that's just plain fascinating.
Explore the temples: Brace yourself for a temple marathon! Chiang Mai is like the ultimate temple destination, with big ones, small ones, and everything in between. Some crowd favorites? Wat Phra Singh, Wat Chedi Luang, and Wat Suan Dok are the headliners.
Go trekking in the mountains: Chiang Mai is surrounded by mountains, making it a great place for trekking. A variety of trekking paths are available, offering options spanning from effortless to demanding levels of difficulty.
Visit a hill tribe village: Hold onto your explorer hat 'cause you're in for a wild ride through the culture of hill tribes. Chiang Mai's your backstage pass to these unique communities. You can visit a hill tribe village and dive into their traditions and cool customs.
Detour: For a detour, Doi Suthep-Pui National Park is the ultimate playground. It has a temple on top that's got views that'll blow your mind. And speaking of cool, there's Warorot Market – a local market where you can snag fresh stuff and meats and even haggle for the coolest souvenirs. Get ready to soak in all that local flavour in one of the best places to visit in Thailand, Chiang Mai.
3. Krabi
Welcome to Krabi, the province that's like a picture-perfect postcard by the Andaman Sea in the south of Thailand. It's hands down one of the best places to visit in Thailand. Get ready to feast your eyes on stunning limestone formations and jaw-dropping landscapes. But hold up, it's not all about the view – Krabi's got some epic stuff to do, too!
Rock climbing: Rock climbing junkie? You're in for a treat! Krabi's got some rock climbing spots that are like a dream come true for climbers from all around the world.
Snorkelling and scuba diving: Time to grab your snorkel or scuba gear 'cause Krabi's underwater scene is like a whole new world. The waters are clear, the coral reefs are popping, and the marine life is just out of this world.
Island hopping: There's a bunch of islands near Krabi just waiting to be explored. You can hop on a boat or paddle away in a kayak – either way, it's going to be awesome.
Detour: Want to take your beach game up a notch? Railay Beach is calling your name. You can only get there by boat, which makes it like your own secret paradise. And if you're feeling curious about the local scene, Krabi Town Museum is where it's at. It's like a time machine to the past, showing you all the cool history and culture of Krabi. Soak it all in!
4. Phuket
Get ready for some tropical fun in Phuket –  one of the best places to visit in Thailand! With its stunning beaches, crystal-clear waters, and lush rainforests, Phuket is like a playground for explorers of all kinds – families, couples, and thrill-seekers alike.
Here are some of the cool activities to try in Phuket:
Visit the beaches: Phuket has a treasure trove of beaches, from secret hideaways to vibrant party shores. Patong Beach, Kata Beach, and Karon Beach are where the excitement's at.
Go island hopping: Set sail to nearby paradises like Phi Phi Island, Koh Lanta, and Koh Yao Noi for island adventures that are pure bliss.
Explore the rainforests: Strap on your adventure shoes and explore Phuket's wild side in Khao Sok National Park and Similan National Park. These rainforests are like real-life treasure troves for hikers, campers, and kayakers.
Visit the temples: Dive into Thai culture at the stunning temples of Phuket. Wat Chalong and Wat Phra Thong will take you on a spiritual journey you won't forget.
Detour: Time for a detour to some other best places to visit in Thailand, Phuket! History buffs, swing by Phuket Old Town. It's a maze of ancient streets with Chinese temples and Portuguese-style buildings. Wander, snap photos, and enjoy the vibe!
5. Ayutthaya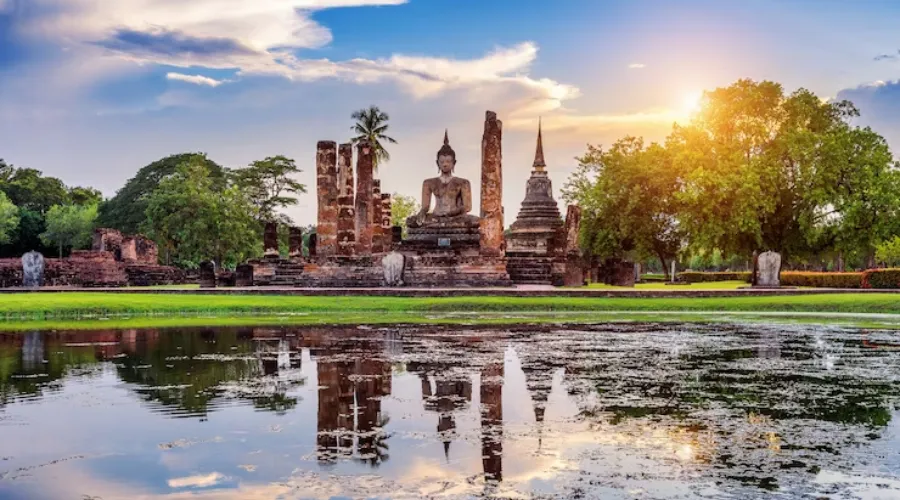 Welcome to Ayutthaya – where ancient history meets modern adventure! This city was the capital city from the 14th to 18th centuries and is considered one of the best places to visit in Thailand. Only 80 kilometres north of Bangkok, imagine thriving streets and towering temples, all brought to life in a UNESCO World Heritage Site that's a hit among tourists.
River Rendezvous: Hop on a boat and cruise the Chao Phraya River for a view that's pure magic, showing you Ayutthaya's ruins like never before.
Temple Time: You can't miss Wat Mahathat, the ultimate Ayutthaya hotspot for explorers.
Shop Till You Drop: Local markets have got you covered with souvenirs, clothes, and delicious treats. Yum!
Chill Out Thai-Style: Unwind with a traditional Thai massage after your adventure-packed day.
Detour: Dive into history at the Chao Sam Phraya National Museum. Want tranquillity? The Bang Pa-In Royal Palace is your island getaway for relaxation and fun by the Chao Phraya River.
6. Kanchanaburi
Kanchanaburi is like stepping into an action-packed history lesson mixed with nature's wonders. This awesome province is all about having a blast while learning something new. Located just 130 kilometres from Bangkok, Kanchanaburi is one of the best places to visit in Thailand if you're up for some excitement. Here's what you can explore:
Explore the Bridge over the River Kwai: This iconic structure is an essential sight for every traveller exploring Kanchanaburi. You can walk or take a boat ride over the bridge or visit the nearby JEATH War Museum to learn more about its history
Explore the Death Railway: The Death Railway was built by Allied prisoners of war during World War II. It is a harrowing reminder of the suffering that took place during the war. You can walk or take a train ride along the railway or visit the Hellfire Pass Memorial Museum to learn more about its history.
Go white water rafting: Kanchanaburi is a great place to go white water rafting. There are several companies that offer rafting tours, ranging from beginner to advanced levels.
Detour: If you are interested in learning more about the history of Kanchanaburi, you can visit the Kanchanaburi War Cemetery. The cemetery is the final resting place for over 7,000 Allied soldiers who died during World War II. If you are looking for a more relaxing experience, you can visit the Sai Yok National Park. The park is home to a variety of waterfalls, caves, and forests.
7. Similan Islands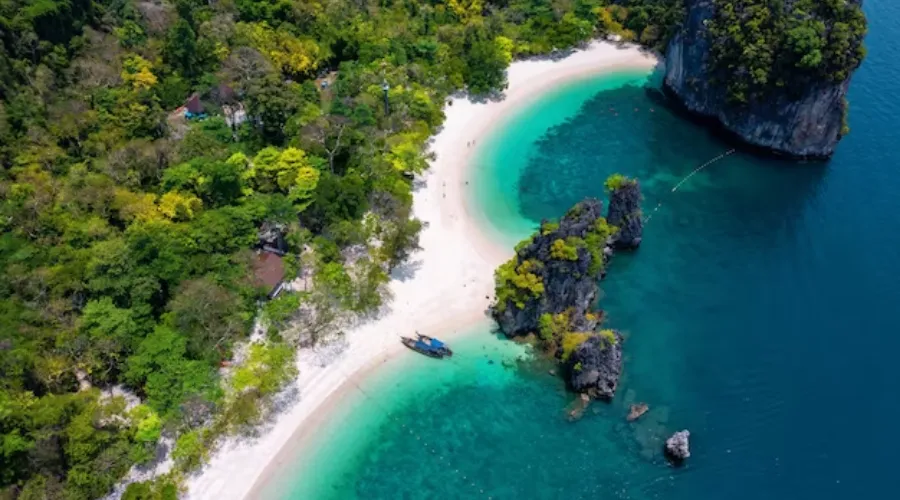 The Similan Islands are a group of 9 islands located in the Andaman Sea, off the coast of Phang Nga Province in southern Thailand. The islands are known for their stunning coral reefs, clear waters, and white sandy beaches, making them one of the best places to visit in Thailand. The Similan Islands are also a popular destination for scuba diving and snorkelling and are also home to a variety of marine life, including turtles, dolphins, and sharks. Here are some of the best things to do in the Similan Islands:
Scuba diving and snorkelling: Scuba diving and snorkelling are your tickets to the underwater wonderland. Whether you're a pro or just starting, these islands have spots for everyone. Imagine swimming with dolphins and saying hi to turtles – that's the Similan Islands magic.
Hiking: There are a few hiking trails on the Similan Islands, including a trail to the top of Koh Similan, which offers stunning views of the surrounding islands.
Sunbathing and swimming: The Similan Islands have some of the most beautiful beaches in Thailand, so be sure to relax and enjoy the sun and sand.
Camping: There are a few campsites on the Similan Islands, so you can experience the islands in a more secluded way.
Detour: Check out the Surin Islands, a bit south of the Similans. It has the same stunning coral reefs and the same crystal-clear waters but way fewer crowds. It's like discovering your own hidden treasure.
Conclusion
And that's a wrap! These were the absolute best places to visit in Thailand. Whether you're all about those sun-soaked beaches, temple-hopping adventures, or soaking in the culture, Thailand's got your back. But hey, don't just take our word for it – get ready to dive into planning your epic journey and see firsthand why Thailand rules the travel game. For more epic travel tips, head over to the Nomads Column!
FAQs