Welcome to the captivating region of Tuscany, a land of rolling hills, ancient vineyards, and timeless beauty. If you're seeking an authentic Italian experience, look no further than the charming cottage rentals scattered throughout this picturesque countryside. Surrounded by vineyards, olive groves, and historic towns, these cottages offer a unique blend of rustic charm, tranquillity, and the opportunity to immerse yourself in the Tuscan way of life.
Tuscany, located in central Italy, is renowned for its breathtaking landscapes, rich artistic heritage, and world-class cuisine. The region is a treasure trove of cultural and historical wonders, from the iconic cities of Florence, Siena, and Pisa to the smaller, hidden gems like San Gimignano and Montepulciano. And nestled amidst this captivating scenery, the Tuscany cottage rentals provide an ideal base for exploring and savouring all the region offers.
Imagine waking up to the soft sounds of nature, stepping outside your cottage door, and being greeted by rolling vineyards and cypress-lined avenues. The cottage rentals in Tuscany range from cosy farmhouses to renovated stone cottages, each exuding its own unique charm. With their rustic architecture, terracotta roofs, and picturesque gardens, these cottages blend with the surrounding countryside, creating an idyllic setting for your stay. Read the following article curated by Nomads coloumn to learn more about the Tuscany cottage rentals, family-friendly cottages in Tuscany and cheap Tenerife cottages for holidays. 
The list of the Best Tuscany Cottage Rentals
There are multiple ways to find the best Tuscany cottage rentals online. However, the Nomads column has curated a list of the best Tuscany cottage rentals to ease your research. The list of the best Tuscany cottage rentals is as follows: 
1. Casetta il Glicine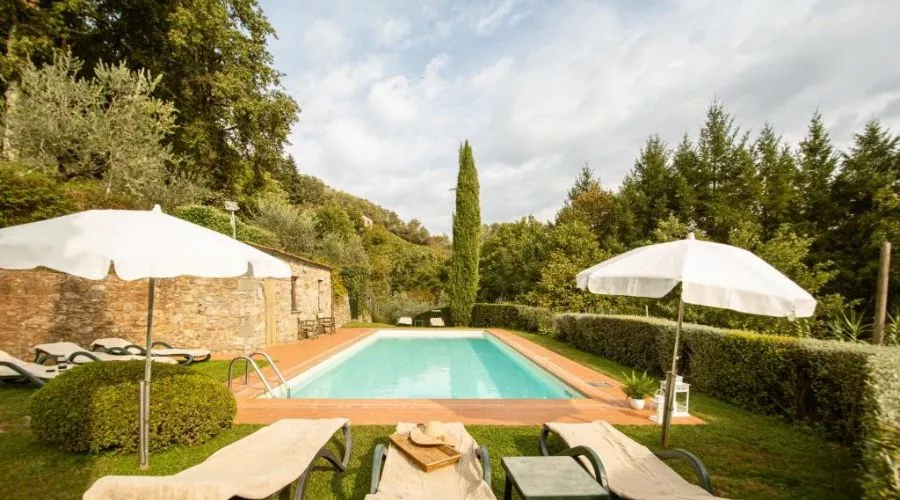 The Casetta il Glicine is a delightful Tuscan cottage rental that promises a memorable and enchanting stay in the heart of Tuscany. Located in the charming village of San Casciano in Val di Pesa, this cosy cottage offers a serene escape surrounded by vineyards, olive groves, and captivating landscapes. As you enter the Casetta il Glicine, you'll be greeted by its warm and inviting atmosphere. The cottage features a charming living area adorned with rustic furnishings and traditional Tuscan decor, creating a cosy ambience. The fully equipped kitchen allows you to prepare your meals using fresh local ingredients, or you can venture out to the nearby restaurants and trattorias to indulge in authentic Tuscan cuisine. 
The Casetta il Glicine offers comfortable accommodation for up to four guests. The cottage comprises two bedrooms, each thoughtfully decorated with Tuscan charm. Wake up refreshed and step outside to the private garden, where you can savour your morning coffee while admiring the breathtaking views of the surrounding countryside. During your stay, take advantage of the cottage's outdoor amenities. Bask in the Tuscan sun on the furnished terrace, or cool off in the shared pool, surrounded by lush gardens. The peaceful and idyllic setting of the Casetta il Glicine ensures a truly relaxing experience. 
Beyond the cottage, San Casciano in Val di Pesa provides a perfect base for exploring Tuscany's treasures. From here, you can embark on day trips to iconic cities like Florence, Siena, and San Gimignano, all within easy reach. Enjoy the region's rich history, visit renowned art museums, wander through medieval streets, and sample delectable wines at nearby wineries. It is one of the best Tuscany cottage rentals. 
---
2. Coriana Apartments and Villas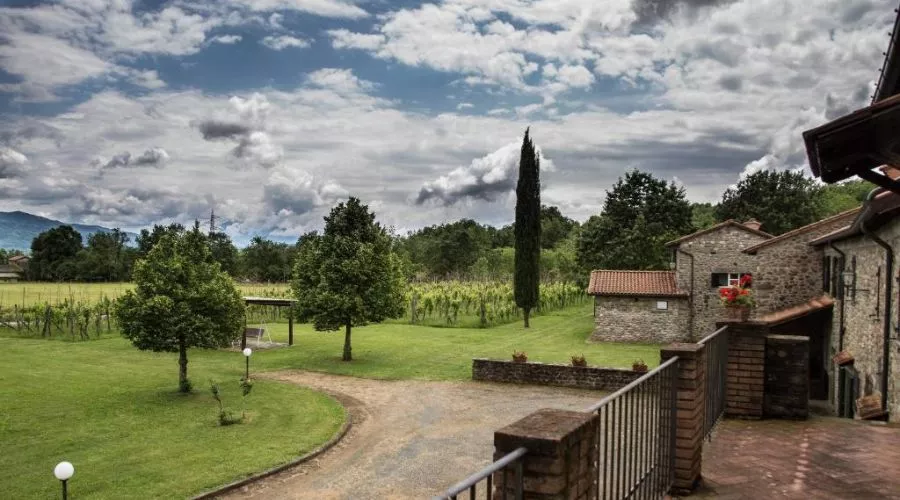 Coriana Apartments and Villas offer a delightful and luxurious retreat in the stunning region of Tuscany. Situated in the enchanting countryside near Cortona, these elegant accommodations perfectly blend comfort, sophistication, and Tuscan charm. The link you provided showcases a specific property within the Coriana Apartments and Villas collection. As you click through, you'll discover a beautifully appointed apartment that promises a memorable stay.
The apartment features tastefully decorated interiors, blending modern amenities with traditional Tuscan elements. With spacious living areas, a fully equipped kitchen, and comfortable bedrooms, it offers a home-away-from-home experience for guests. 
The Coriana Apartments and Villas are designed to cater to various group sizes and preferences. Whether travelling as a couple, a family, or a larger group, you'll find a range of options to suit your needs. From cosy apartments to luxurious villas, each property is meticulously maintained and thoughtfully furnished to ensure a relaxing and memorable stay.
During your time at Coriana, take advantage of the on-site amenities provided. Unwind by the pool, surrounded by lush gardens and scenic views of the Tuscan countryside. Enjoy outdoor dining on your private terrace or explore the picturesque surroundings, filled with vineyards, olive groves, and charming villages.
Cortona, located nearby, offers a captivating blend of history, art, and culture. Discover its medieval streets, visit historical landmarks, and immerse yourself in the town's vibrant atmosphere. Taste the delicious Tuscan cuisine at local trattorias, sip on regional wines, and savour the unique flavours of the region. From Coriana Apartments and Villas, you'll have easy access to other renowned Tuscan destinations. Take day trips to iconic cities such as Florence, Siena, and Arezzo, each offering its distinct charm and attractions. Indulge in art, architecture, and the rich cultural heritage that permeates throughout the region.
---
3. Holiday house Talla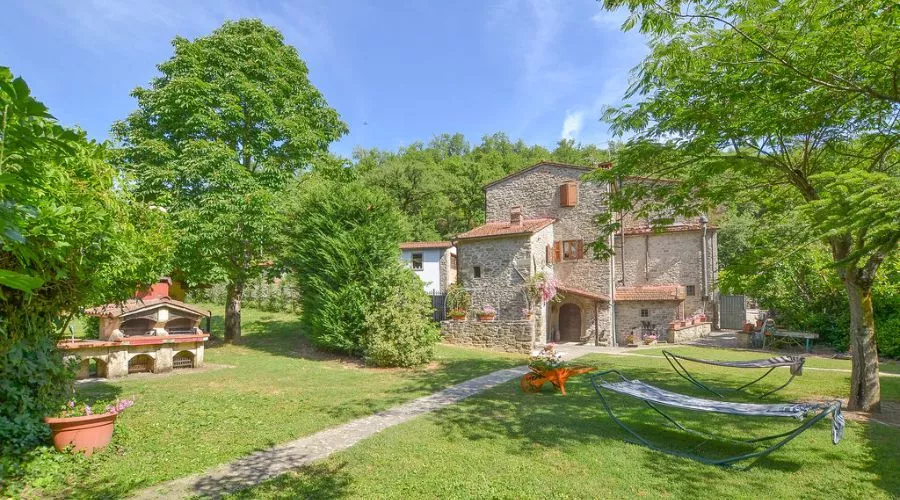 The Holiday House Talla, located in the picturesque village of Talla, offers a charming and inviting retreat in the beautiful Tuscan countryside. This property, which you can explore further through the provided link, promises a memorable stay immersed in the tranquillity and natural beauty of the region. As showcased in the link you provided, the Holiday House Talla invites you into a warm and cosy ambience. The house features comfortable and tastefully decorated interiors, combining rustic charm and modern amenities. 
With multiple bedrooms, a well-equipped kitchen, and a cosy living area, it provides ample space for relaxation and enjoyment. Surrounded by the serene landscapes of Tuscany, the Holiday House Talla offers a peaceful setting for guests. Step outside onto the private terrace, where you can soak up the sun, enjoy alfresco dining, or simply admire the breathtaking countryside views. Take a refreshing dip in the pool, surrounded by lush gardens and the natural beauty of the Tuscan hills. 
The village of Talla, with its quaint streets and charming atmosphere, provides a true taste of rural Tuscan life. Explore the village centre, discover local shops, and experience the warmth and hospitality of the locals. Talla is also an excellent starting point for exploring the wider region, with its picturesque towns, vineyards, and cultural attractions.
---
Conclusion
Tuscany cottage rentals provide an authentic, idyllic experience in one of Italy's most captivating regions. Nestled amidst rolling hills, vineyards, and historic towns, these cottages offer a unique blend of rustic charm, tranquillity, and immersion in the Tuscan way of life. These are some of the best Tuscany cottage rentals. Visit Nomads Column for more information.
FAQs