Marrakech, a city that effortlessly blends history, culture, and modernity, stands as a captivating destination for travellers. The lively streets, bustling marketplaces, and historic sites weave a tapestry that captivates travellers from all over the world. When arranging a trip to this Moroccan treasure, the hotels in Marrakech you choose can make or break your trip. This blog delves into the world of hotels in Marrakech, looking at options that cater to a variety of needs, such as pet-friendly hotels in Marrakech and budget-friendly hotels in Marrakech.
Agoda: Your Passport to Affordable Adventures
Unlock the world's wonders with Agoda, a leading online travel platform. Established in 2005, Agoda has redefined the travel industry, offering millions of registered customers hassle-free access to affordable deals on hotels in Marrakech, flights, and activities. Operating globally in 31 markets, Agoda's diverse team of over 6,700 individuals ensures a seamless booking experience 24/7.
More than a travel platform, Agoda is a solution that empowers exploration, shaping the future of travel experiences with innovation, customer-centricity, and sustainability. Join Agoda on a journey where every adventure is an invitation to see the world for less, discover more, and create lasting memories with the best hotels in Marrakech.
Top Hotels in Marrakech for a Luxurious Stay
1. Rawabi Hotel & Spa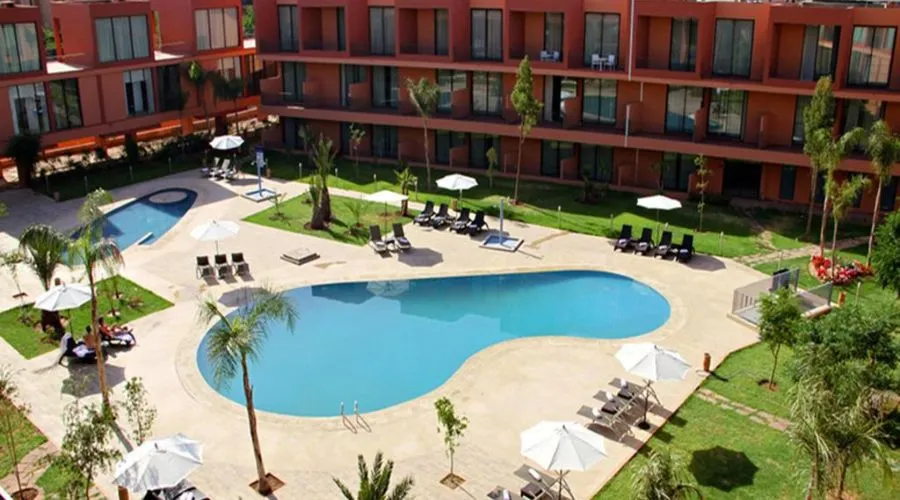 Nestled in the heart of Marrakech's Medina, Rawabi Hotel & Spa stands as a beacon of luxury, offering a harmonious blend of opulence and comfort. Boasting a 4-star rating, this establishment prioritises guest satisfaction with features like a 24-hour check-in service, airport transfer, and free Wi-Fi throughout the premises.
The Hygiene Plus certification ensures a clean and safe environment for guests. The proximity to attractions like Jemaa el Fna adds to the allure. Indulge in the on-site massage and fitness centre, making your stay a perfect balance of relaxation and exploration.
---
2. Hotel Oudaya
Conveniently located in the Guéliz district, Hotel Oudaya provides a welcoming retreat for travellers. The 3.5-star property combines practicality with comfort, offering free Wi-Fi, a 24-hour front desk, and even an indoor swimming pool. Its proximity to public transportation makes exploring Marrakech a breeze.
The hotel's dedication to hygiene and guest well-being is evident through the Hygiene Plus certification. Whether you're enjoying a massage, savouring meals at the on-site restaurant, or maintaining your fitness routine, Hotel Oudaya ensures a seamless stay.
---
3. Hotel Riad Qodwa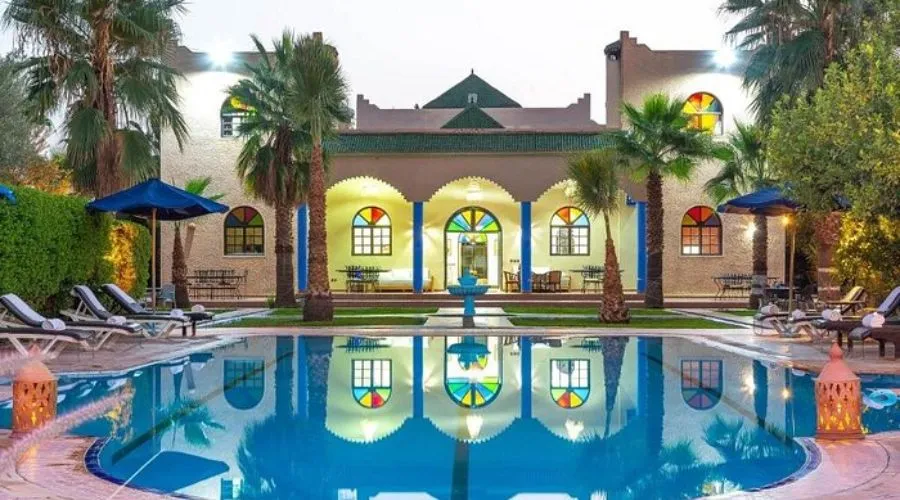 For those seeking a serene escape in Marrakech's Southern Suburbs, Hotel Riad Qodwa beckons with its 4-star elegance. The hotel, recently renovated and Hygiene Plus certified, offers a 24-hour front desk, airport transfer, and free Wi-Fi. The inclusion of a massage service and steam room adds a touch of indulgence to your stay.
Immerse yourself in the charm of Marrakech, starting with a visit to the famed Jemaa el Fna, easily accessible from this strategically situated hotel.
---
4. Hotel Amalay
For those prioritising affordability without compromising comfort, Hotel Amalay in the Southern Suburbs is a 3-star haven. The hotel, situated close to the Cyber Parc Arsat Moulay Abdeslam, offers free Wi-Fi, bicycle rental, and a 24-hour front desk.
Embrace the local flavours at the on-site restaurant, ensuring your Marrakech stay is both delightful and memorable.
---
5. Hotel Mont Gueliz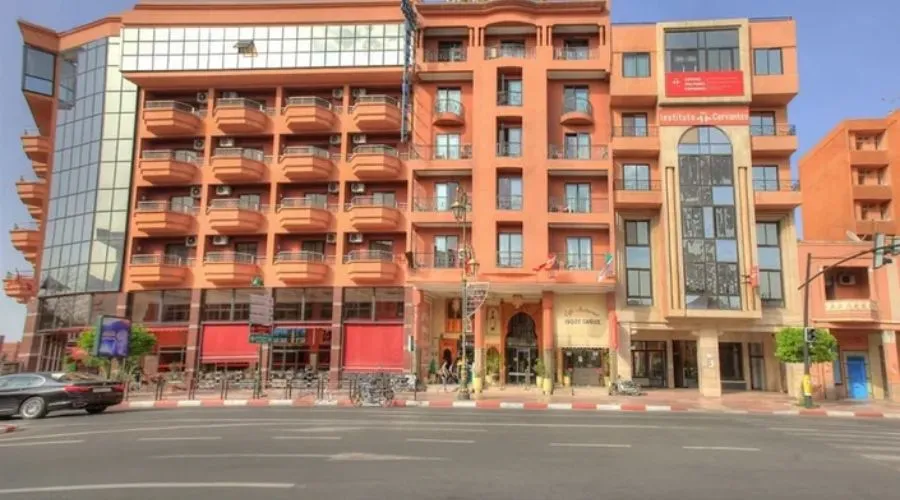 Situated in the Guéliz district, Hotel Mont Gueliz offers a delightful start to your Marrakech adventure. With a 3-star rating, this hotel provides free Wi-Fi, a 24-hour front desk, and easy access to public transportation.
The outdoor pool and on-site restaurant contribute to a pleasant stay, allowing guests to unwind after exploring the nearby Jemaa el Fna.
---
6. Ibis Marrakech Centre Gare Hotel
Experience Marrakech with the assurance of ALLSAFE standards at Ibis Marrakech Centre Gare Hotel. Located in the Guéliz district, this 3-star hotel prioritises your health and safety while providing free Wi-Fi, a 24-hour front desk, and a range of amenities, including indoor and outdoor pools.
The proximity to public transportation and the famous Jemaa el Fna ensures a seamless blend of convenience and exploration.
---
Pet-Friendly Hotels in Marrakech for Furry Friends
For those travelling with furry companions, pet-friendly hotels in Marrakech understand the importance of including every member of the family in the adventure. Explore the city's wonders with the assurance that your four-legged friend is welcome at selected establishments, ensuring a truly inclusive Marrakech experience.
---
Also Read – Unveiling The Tranquil Luxury Of Hotels In Bali
---
Conclusion
As you plan your Marrakech itinerary, consider the unique offerings of each district and the proximity of your chosen hotels in Marrakech to key attractions. The city's vibrant energy, historical richness, and culinary delights await your exploration.
Whether you opt for the luxury of Rawabi Hotel & Spa, the convenience of Hotel Oudaya, the tranquillity of Hotel Riad Qodwa, the affordability of Hotel Amalay, the quality of Hotel Mont Gueliz, or the safety standards of Ibis Marrakech Centre Gare Hotel, your Marrakech journey with Agoda promises to be an unforgettable odyssey. Let the enchantment of Marrakech unfold as you step into a world where tradition meets modernity, creating an experience that lingers in your memories. For more information, visit Nomadscolumn.
FAQ